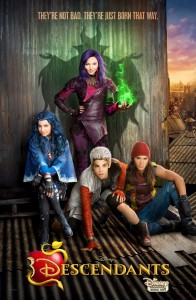 If you enjoyed the High School Musical franchise, you'll love this new offering from Disney Africa which comes to our small screens on Friday 18 September at 17h00 on the Disney Channel 303. Descendants follows the story of four teens whose parents happen to be the biggest villains in history. It's very entertaining, with lots of songs and dance thrown into the mix, as well as plenty of action and romance. There's something for everyone. Here is my Descendants movie review.
The villain teens are chosen to go and mix with the "good" students at their school and this is where things get interesting.
Mal, played by Dove Cameron, is the daughter of Maleficent, the awful witch who put Sleeping Beauty to sleep. She is tasked with stealing the Fairy Godmother's wand but she is torn between the pressures of her mother and her own emerging self. This was an engaging actress and I absolutely loved her purple hair and outfits as well. (By the way the villains outfits are way more interesting than the pastel colours of the "good" people – a further indication that they require some mixing up!)
Mal's galpal Evie's mother is the evil queen who tricked Snow White with the poisoned apple. Evie still makes use of the fortune telling mirror, and is excited to go and meet a cute guy, but she learns that Prince Charming is literally not all that he is cracked up to be and that she has more than her good looks to fall back on. Evie is played by Sofia Carson.
Carlos is the son of Cruella de Vil and, since there are no dogs where he comes from, and his mother has instilled a hatred of them in him, his evolution involves a furry friend.
Jafar's son is Jay, played by Booboo Stewart. I knew I had seen him somewhere before and it is because he played Seth Clearwater in the Twilight movies. He's also very skilled with his martial arts. He learns there's more to life than just taking things and gives the sporting squad a huge boost.
Ben, the newly appointed king who made the decision to let some of the villains in, is the son of Belle and the Beast. He is played by Australian Mitchell Hope. Ben is also Mal's love interest and the engaging part of the story is that love works beyond all the potions and spells you may throw at it.
So you can see it's a coming of age kind of movie, with each of the protagonists undergoing their own identification and separation from their parents. Booboo Stewart, who plays Jay, sums up his character's transition: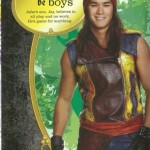 I definitely have a soft spot for Jay. Not in his evilness, but in the way that he's trying to find out who he is as a person. When you're a teenager, you think you know who you are – but you don't really know. That's exactly what Jay is going through in the movie.
The other theme is good versus evil, but I like the way it's not that clear cut. The villains are separated from the rest of the fairy tale characters by a magical barrier and there's a lot to learn on both sides about understanding and forgiveness across generations. Indeed some of the prejudicial scenes will remind you about apartheid, or at least how teenagers separate themselves from the unpopular kids.
How this lesson in not judging a book by its cover is played out is revealed in just who grabs that wand in the end and why – but you will have to watch the movie to find out.
Thanks so much to Disney Africa – I really enjoyed this screening – as well as meeting up with some other bloggers – Karen, Cassie and Jo. We left Nicky behind this time, as he prefers his cars, planes and minions animation, but I know there will be other Disney movies he will enjoy in the future, and we look forward to those.
You can read more Disney news on their website and also follow them on their Facebook page.
Do you like singing and dancing movies?
Related Posts via Categories
Comments
comments