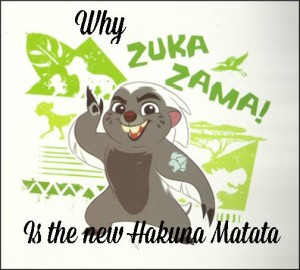 The Lion Guard is a cute kiddies film, made for TV. It takes off where The Lion King left off – a continuation of the descendants of Simba, in the form of his children and how they carry on his legacy. The protagonist is second born Kion: although he won't be king, he is called to be the leader of "The Lion Guard": to pull together a group who will protect the circle of life. This movie is premiering on 26 March at 10am on Disney Junior DSTV Channel 309 and is the predecessor of a series aimed at preschool and primary school children.
I remember back in 1996 when I was working at a video store we had about five copies of The Lion King and it was quite in demand. The movie was obviously a classic, appealing to both young and old, with a magnificent sound track and sweeping scenes of galloping animals against colourful sunsets.
You can't possibly compare this film to that one.  The film itself has been panned across the internet (from these reviews to the UK's Telegraph) but I found something redeeming behind the story. I don't think sequels in general every measure up to their first outings, and this one in particular did not have the big screen in mind. I think if we keep the idea that this is a made-for-TV double feature, meant to premier a series, appealing to children, then we have a better perspective on it. (Yes, a fart doesn't work in real life to chase hyenas away, but it is very funny for kids. Nicky thought it was hilarious).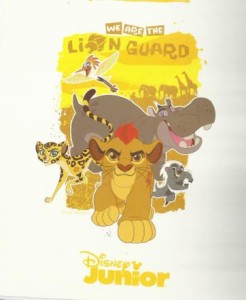 The plot revolves around Kion, who accidentally discovers that he has a very special "roar" – an instrument that can be used for good or evil (as we find out, in the history of his uncle Scar, who used it for unsavoury purposes). The roar is an indication to his father, Simba, that he is ready to form "The Lion Guard" -to assemble the bravest, strongest, fastest and keenest of sight. For Kion, this means he must assemble his friends – a honey badger (Bunga), hippo (Beshte), cheetah (Fuli)  and egret (Ono). His father, Simba,  isn't too impressed, expecting only lions. But when the group defeat the hyenas and rescue his sister Kiara from the stampede, they earn their title and Simba accepts them.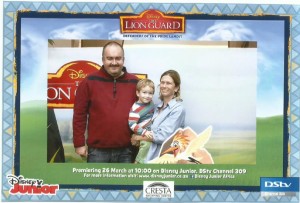 Kion's best buddy is the honey badger, Bunga, who lives with his adopted uncles Timon and Pumbaa. You'll remember the meerkat and warthog duo from the first movie, singing "hakuna matata" – about having no worries. "Zaka Zuma" on the other hand, means "jump up and dive in".
The reason why I think "Zaka Zuma" is a better philosophy than "Hakuna Matata" is because it is a better take on the complexities of life. In reality, you can't sit back and ignore your problems. There will always be some kind of worries. It is better to jump into the problem and face it than deny its existence.
I'll let the honey badger explain it a bit better:
Now you know my little motto for life
(Zuka zama zom zom zom!)
Enjoy the chaos, ignore the strife
(Zuka zama zom zom zom!)
But life throws you a crazy curve
(Zuka zama zom zom zom!)
Go Zuka Zama! Don't lose your nerve!
(Zuka zama zom zom zom!)
(Zuka zama zom zom zom!)
The Lion Guard s premiering on 26 March at 10am on Disney Junior DSTV Channel 309. We were invited to a premier screening. The film also features idols winner Karabo Mogane's musical talents, who was also present at the premier.
Related Posts via Categories
Comments
comments