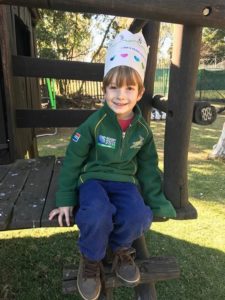 I'm feeling profoundly grateful that I have a little five year old boy in my life. He brings me joy in so many ways, and he has been counting the days down to his birthday and to his space party. So of course we had to have a celebration.
On the day of his actual birthday he went around saying "It's my birthday!" He even sang happy birthday to himself in the bath that night! We had a lovely birthday circle at his school and his teacher made him this stunning hat. It has "5" at all the points and he wore it the whole day. We asked him what he wanted for supper for his birthday and the resounding answer was "pizza" so that's what we had.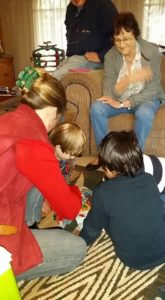 In fact the words "pizza" and "party" are two of his happy words that escape his lips while doing some of his favourite activities eg building Lego. In fact he has been doing a lot of Lego building lately as we got him his Lego boat for his birthday. He also got a Lego aeroplane from his grandparents (which even went on a trip to school) and fireman set from his Aunty Heather. He was most chuffed with the Cars 3 set of Lego which had Lightning and a police car to build and a "loop de loop" track from DH where his favourite car can jump and roll through a looped track. (We are once again obsessed with the Cars franchise after watching the latest movie on Friday afternoon, courtesy of Emirates).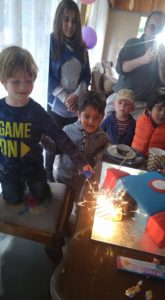 Anyhow the party prep went on during all of this, as Nicky wanted a Space party. Particularly where lots of rockets were involved. We enlisted Kim, who made his Thomas cake last year, to do a special rocket with sparklers, so that this cake could really blast off. He was completely thrilled.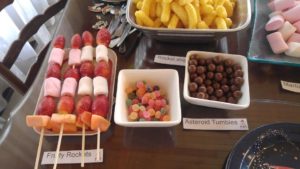 I also made rockets from fruit, both with marshmallows alternating with strawberries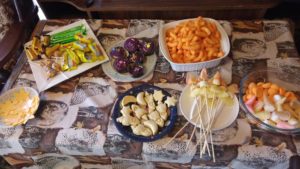 and sponspek at the end, and another one with it as a triangle point plus banana and pineapple rocket flames. I did cupcakes (with the help of my mother in law)  sprinkling stars and smarties all over them.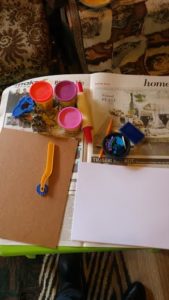 A set of cookie cutters proved really useful not only for making cookies but also for making stars from cheese and an activity with Playdoh at a craft table. (At this table I also had some stamps of stars and rockets too).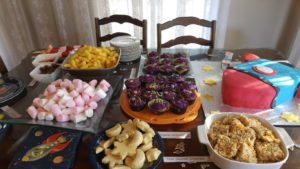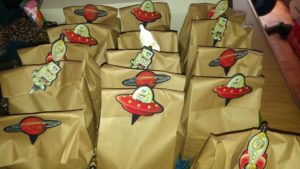 I found a really cute set of cupcake holders which I used as a theme for the cups, straws and plates. I find cupcake toppers a bit of a waste and rather used them as decoration for the party packs.
Inside the party packs I had a bouncy egg from the crazy store which I covered in foil to be a moon rock. A little car to be a moon buggy. A colourful ball to be a planet. And then the rest was the normal party food of sweets, plus some of the shaped cookies.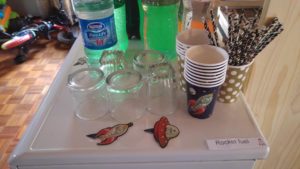 The drinks station was aptly named "rocket fuel" to keep the thirsty ones quenched.
One food I decided to do which was a bit of a flop was some rice crispie cookies. Nobody ate much of them and I think they really were a bit sweet with the condensed milk. But DH likes them. So he will be consuming the leftovers.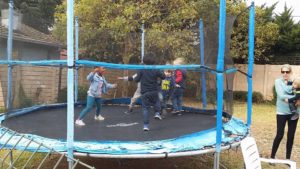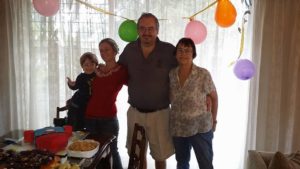 The kids had a ball jumping on the trampoline and running around playing. Nothing like loads of sugar to get them going.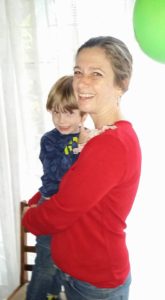 And then of course it was clean up time. Which reminds me why we only do this once a year.
But totally worth it for Nicky.
Related Posts via Categories
Comments
comments