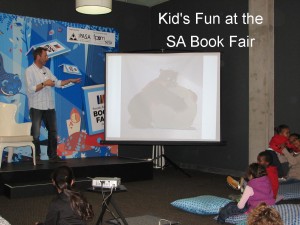 Nicky and I went off to the SA Book fair to attend two workshops. It was a fun outing for us as well as a good insider look at how a children's book gets illustrated, and a look at real dinosaur fossils.
The first workshop was led by children's author and illustrator David Melling. He has been involved in children's books for a long time, but this session was about his well known creation "Hugless Douglas". The story is about a bear who needs a hug and tries to hug a whole lot of other objects and animals before settling on the best hug of all – from his mom!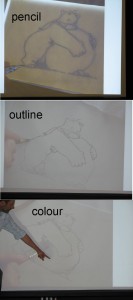 He took us through the process of how he draws. He uses real pencils and paint; not a computer program. He says he also uses a hairdryer in between each stage of painting. He says there's a baby who lives next door to him and he wonders what they think of all the noises!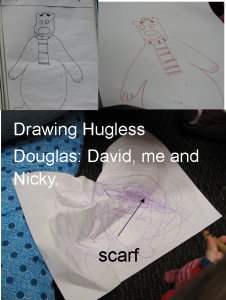 After this we all received a piece of paper and crayons so that we could draw Douglas too. He showed us step by step how to do it and I'm quite pleased how mine turned out. Of course Nicky just scribbled  but made a real effort to do the scarf (if you look closely) so I'm happy because that's totally age appropriate for him.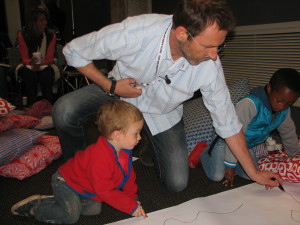 Next he laid out sheets of paper for the kids to colour. Nicky had fun doing more scribbles too.
Afterwards we received a book, "Hello, Hugless Douglas!" which we got the author to sign. I have to say I think this workshop was real value for money, considering all the bonuses and skills (for both adults and kids) that were involved.
I think I'll always remember this man with his paints and hairdryer and the baby crying next door every time I read the book. It makes him more human and I'm glad we attended.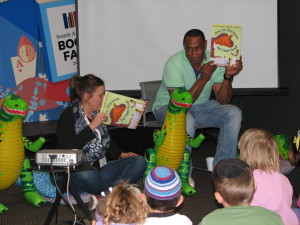 Next up was "Dem Bones". We had a reading, first of all, from a dinosaur book. They also had a competition to see who could roar the loudest in order to win plastic blow up dinos.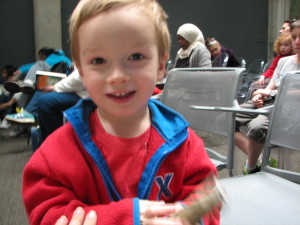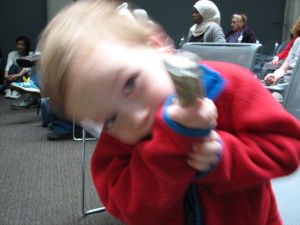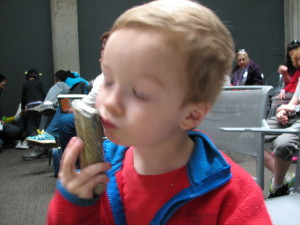 After this we were introduced to a real paleontologist, Ian McKay, who showed us some real fossils. Nicky was really excited to get a fossil. There were puzzles and colouring in and creating with plasticine. Nicky really liked the plasticine and firstly broke it all into pieces. I told him he was making bones, probably ribs by the looks of it. Then he realised that I'd given the fossil back and was a bit distressed so I said we would make one out of the dough. I pressed it between my hands and showed him how to roll it. He liked that.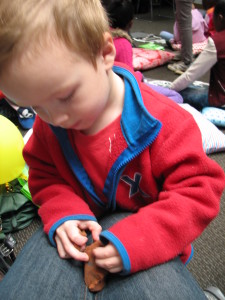 I was just a bit disappointed that there was no digging for bones, as was promised in the program. The paleontologist said there had been a miscommunication and that there would be another opportunity to dig for bones on Hertitage Day, the 24th of September at Wits. So hopefully I'll hear more from him about that.
After two sessions in a row we were hungry. We had some sandwiches and iced tea. Nicky fell asleep on the way home. Too much excitement in one day!
PS If you want to read about how to publish your book in South Africa, read my other post over at SA Mom blogs here.
Related Posts via Categories
Comments
comments