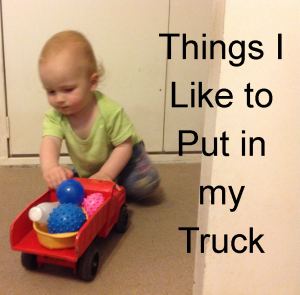 Nicky received a very special gift for his first birthday from his grandfather. It was a bright red metal truck. My DH received this for his second birthday, so it is kind of a family heirloom. You can see pictures of two year old DH playing with it and read more about NIcky's first birthday here.
In any case, he LOVES this truck. Evidence of how much he pushes this thing along in a crawling position can be seen on his "heavy duty crawling pants" which both have a hole on the left leg: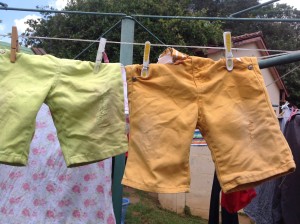 In any case, I thought I would make a list of things he has been putting in his truck that I have noticed the past month or so. The basic rule is that it must have some value to him to be in the truck. You can also see this truck goes everywhere: outside in the dirt and inside on the bed.
1) Shoes: His little shoes go for a ride in the truck.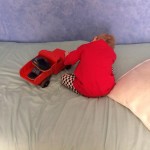 2) My shoe and balls: He was crying when I discovered he was trying to balance my shoe on top of the balls. I helped him put it on top.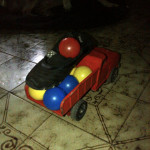 3) My cup: I was drinking some decaf coffee and afterwards he likes to "drink" from the cup and play for it. And give it a ride on the truck of course.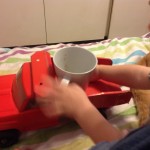 4) Foam letters: Because my son is going to be an educated boy and a teacher's son of course, letters definitely have value. On they go.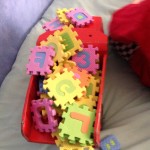 5) Paper: After taking a whole lot of scrap paper I keep in a wire basket he decided some of it could also go for a ride.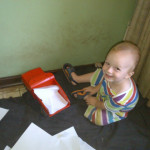 6) Dirt: He likes to go behind the dog kennels with his truck and play in the dirt there.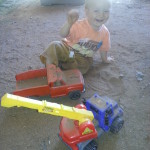 7) My whole self: In the spirit of hokey pokey, he put his "whole self" in the truck. It even makes a good step, if mom is close on hand to check that he doesn't fall. He also sits on the truck sometimes too.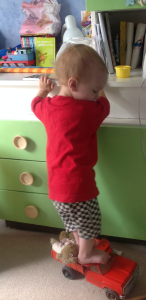 Maybe he's going to be a surfer??
I love this kid and all the interesting things he gets up to. He just never ceases to amaze, amuse and entertain me.
Related Posts via Categories
Comments
comments