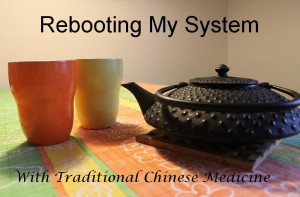 The things I do to try and get pregnant. There I was, lying half naked on a table with pins stuck all over my body. And they were hooked up to a pulsing electronic contraption. It had to be the weirdest sensation out but as time went on it lessened, and it became more relaxing. You might be asking what on earth am I up to now? I'm using traditional chinese medicine and acupuncture to create a welcome space for new life.
As part of the upgrade package of the Fertility at 40 Plus Telesummit, I received a number of bonuses. One of these was a consultation with Andrew Loosely, a Traditional Chinese Medicine practitioner.
Some of the things he said in his talk:
Chinese Medicine looks at it as a much deeper concept of health of how your body systems are working and communicating with each other and how much vitality and nutrients you have in your body and have in store as reserve as well.
…
The approach of IVF and the system or treatment is to bypass all the intricate aspects of the menstrual cycle that might not be happening naturally and to provide you with an embryo that can be transferred back to your body in the hope that it implants and pregnancy is confirmed.
…
When a practitioner prescribes herbs for you they are giving you a prescription that is working on an underlying aspect of your body function, and that prescription will be working on balancing it and encouraging things to go in the direction that is needed.
Last Friday afternoon I had a skype session with Andrew. Before the session, I had to send him my fertility timeline as well as all my blood tests.
It was a very encouraging meeting. He said, at 41, I should still be able to conceive. He believes the route I should follow is that of Chinese medicine because that will create the right conditions for pregnancy. He seems to think that acupuncture can be a supportive function rather than very necessary, and the herbs are the most important. He recommended I find someone like himself in Joburg who could give me the herbs I need with the right amount of feedback (he tests clients every two weeks).
The other notable thing we did chat about was diet. I told him about my experience with the dietician and the snacks I was having throughout the day, the seed roll in the morning and the yoghurt in the afternoon. He said I would have to ditch dairy and wheat to conceive. I have heard this before, it's not new, but I guess I was hoping to avoid it. I distinctly remember him saying about the seed roll: "I don't care how many seeds it has, it isn't helping you." He said I should go for lots of red meat (looking at my pale tongue) and root vegetables such as sweet potatoes and carrots. I asked about potato (I love potato) and he said so long as it's not every day. So I am still using my potato mash recipe for lunch but I've mixed sweet potatoes in. And now I'm eating rye bread instead of normal bread. Rice is fine. No pasta. Not even egg noodles.
So after this I did some googling about Traditional Chinese Medicine practitioners in Joburg. I found one in Byranston (looked expensive) and another one in Greenside, which was closer. I then posted in the fertilicare forum asking if anyone had any advice, but there was no response. I guess not many people go this route, perhaps.
So, I decided to take a chance and try out the Greenside one. A lady who was Chinese and Chinese educated.
I told her my story. She looked at all my blood tests. She looked at my tongue and also took the pulses of both my wrists. On the left wrist she seemed happy that something was right there. She also told me about some success stories she had – of a lady in her 40s who had twins, and a lady in her 30s with premature ovarian failure who got pregnant in two months on her system.
She didn't seem to have much to say about diet and lifestyle, actually she wasn't very chatty at all. But I guess the proof is in the pudding and I should wait and see a bit if her methods work.
After the consult it was off for the acupuncture. I've had acupuncture before, with two different practitioners, but this is the first time I've been hooked up electronically. The points in my lower leg really hurt. I remember my first acupuncturist saying that if it hurts, that's good, it means it's working, but fortunately she checked in on me and turned off the pulses in my legs. Ah, much better. The stomach was fine, I didn't feel that much. And I loved the warmth of the heat lamp over that area.
She then put together a herbal concoction of twenty different herbs for me to take eight spoons of every day. I wrote down all the names but it's all in Latin and Chinese and I don't really have much of a clue what they are. She says it's for my kidneys as well as to get my system moving (it was too stagnant).  Apparently it's okay to do it with hot water and sweeteners. I popped it in my rooibos tea and it's not that bad.
As I drink this new concoction, I think to myself: well, even if I don't get pregnant I'm sure it will certainly help my health.
Related Posts via Categories
Comments
comments