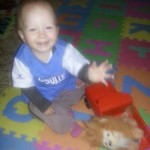 Half the fun of getting to where you want to be should be in appreciating how you got there. I know that my specific challenge is to appreciate the present rather than being too focused on the past or the future. Even with infertility, being  grateful for the time we had as a couple, rather than what was missing (the baby), was when we achieved a happier peace.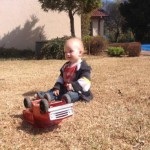 The parallel I am trying to draw here is that many people get caught up in baby milestones without looking at the steps taken to get there. I clearly remember how Nicky would slide around on his tummy before crawling on all fours and definitely did both for a while before padding around confidently as he does now.
A lot of people are asking, "Is he walking yet? " and the answer is no. But if you look carefully you will see so many movements that show all the preparation building up to that final step.
-Nicky is pulling up to stand a lot. Previously he would sit and unpack shelves, now he stands and goes for higher places.
-He can hold on with one hand. This applies to anything he is holding onto, including moving objects like his scooter.
-Another bath evolution: from lying on his back, to front, to sitting, and now – he just wants to stand! Holding onto me, of course, but he did not want to sit for quite a while.
-Standing! The first time was on the bed and then one day he squatted and then lifted himself up and then down again. So, it's only been for a few seconds, but its definitely standing by himself.
-After showing him how for weeks, he is now able to get off the bed by himself.
– He likes to put his bum in the air all the time. His legs are getting stronger. I see him making that movement all the time.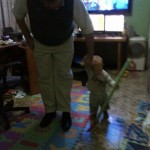 – He can kind of walk with a little bit of support and guidance. It was so precious to watch my DH practicing with Nicky, holding with one hand and using a toy stick.
Appreciating the process and not just the end product of something is much like valuing a butterfly that must first start off as a caterpillar, build a cocoon, and then go through a transformative process.
So what about you? Did you ever have a journey you appreciated as much as the destination?
Related Posts via Categories
Comments
comments