Nicholas is now nearly 16 weeks and weighed 6.4kg at his vaccinations yesterday. I am so pleased we can have a break from those for a while. His next injections are only at 9 months.
I think we are out of the survival (eat / sleep / poop) mode and we now have more awake time to play which is a lot of fun.
Every day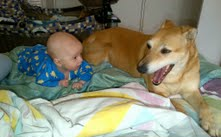 I put him on his tummy for a bit and we practice rolling over. What is exciting is seeing his head pop up. He can look around and get a better view. His head is getting so strong he waves it around and uses this weight as well to roll over. Even when he is in my arms he moves that head. It is as if he just wants to go go go and I am sure he is going to love crawling and more movement when he is able.
He is grabbing things! He grabs my top and blankets nearby. He also likes the giraffe my mom in law gave because its arms are thin and just right for holding onto.
I am singing songs to him. Of course he doesn't understand but he loves the actions. For instance if I do the "Ten little monkeys jumping on the bed" and make his legs go up and down for the jumping, and touch his head for the head part, he laughs like anything. I knew being a preschool teacher would come in handy!
Having more awake time sometimes means he is still wide awake when we go to bed, and the normal nursing trick doesn't work. Last night was so funny, I was so frustrated I asked my DH for ideas. Sure enough he gets out the iPad and googles "counting sheep" videos. I'm serious. There we sit watching sheep and Nicky stared at them, fascinated. Well at least it calmed him down and we could feed him again.
Related Posts via Categories
Comments
comments