We went to the clinic for Nicky's latest vaccinations (chicken pox this time, will do MMR next month) and found out that although he hasn't gained much weight (he is exactly 10 kgs now) his height has expanded from 75 to 82 cm! That's 7 cm growth in 3 months! He is going to be tall, like his dad.
I still get a kick out of observing everything he does. He is showing me more and more what he wants. He will actually go over to food or his sippy cup to tell me that he wants it. Wow. Yes, the food situation is gradually improving and I have even managed to get him to drink water now out of the sippy cup with a straw. He is even drinking a bit more without spilling, which is fantastic.
One of the really amazing things to listen to is his babbling commentary on life, the universe and everything. Yes, he has his own language, but if you listen really carefully you can hear some meaning behind the baby talk. I thought I'd give you a sample, inspired by Mo over at The Baby is Fine.
-"Wish-wish" or any "sh" kind of words. These are his happy expressions. He will say this when he has an object he desires and is enjoying playing with it.
-"Yes!/ Yeth! es!" A satisfied sound. He got the toy/ object he wanted / or his truck is doing what he wants.
-"Bird" – Yes, he did say something that sounded like "bird" on Saturday. He was sitting there very excitedly looking at a bird. This afternoon, however, we saw a bird again and all he could say was "Da!" (Nope, that's not Dada).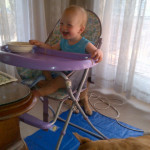 -"Bawa" /"Wowo" – meaning dogs, represented by the sounds they make. The dogs are like Nicky's siblings. He loves them to bits and pieces and gets very excited to see them. He likes to throw food at them (this is part of the reason why Coff-dog is getting so fat). When the dogs eat at 4pm I have to give Nicky his yoghurt just to keep him away from the dog food. Milo growls if you disturb him while eating.
-"Me-me" meaning mom, me. Normally wailed when upset / tired / hungry.
-"Dada" meaning dad. Normally said excitedly while climbing over to dad's side of the bed.
I will continue to listen to what he says and I'm sure more words are coming…
Related Posts via Categories
Comments
comments