Hello bleeps.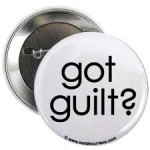 According to Wikipedia: Survivor, survivor's, or survivor's guilt or syndrome is a mental condition that occurs when a person perceives themselves to have done wrong by surviving a traumatic event when others did not. It may be found among survivors of combat, natural disasters, epidemics, among the friends and family of those who have committed suicide, and in non-mortal situations such as among those whose colleagues are laid off.
I have been thinking for quite a while about writing something on this. The transition I have undergone from infertile to pregnant. I haven't stopped feeling the same feelings I've had through infertility (and I don't expect them to ever go away) but there is a part of me that feels just plain awful for those that do not have my success right now. And there is another part of me that is just plain happy and grateful. I sway between these states and acknowledge the validity of both feelings, until I find my happy medium. The place where I acknowledge my hard won pregnancy while still having compassion for those who are still working towards it.
The truth is – I am done with suffering.
I have been through enough years of disappointments and enough is enough. I am just so glad to get to this place the joy is just radiating from me. It has been such a long hard road I feel entitled to some happiness.
This is my moment, dammit. So why can't I fully appreciate it?
Because four people have hit the unsubscribe link since I announced my pregnancy. I can totally understand how my gushing over my baby bag goodies would make an infertile want to puke. I would probably do the same. And I feel for them.
Because I still read infertility blogs of people still struggling. And some of them even share how tough it is when infertiles find a way to get that baby, and they are left behind. Keiko wrote a post on this.
Because there is a part of me that really wants to help the infertility community. And how can I truly do that when I'm not where they are?
So how does one balance the joy of finally making it to pregnancy, and sharing that experience while still appreciating the people who just are not there yet? Or maybe never will be?
The answer, as Mel so aptly put it this week, is complicated. But I have to hand it to Mel, especially after learning that she only started blogging after her twins were born. She really has brought the infertility community together, and seems to have well achieved that balance of writing both about her children as well as infertility issues.
Lots of other IF bloggers have written about this topic.
In this excellent in-depth article, Iris Waichler, author of Riding the Infertility Roller Coaster, talks about  parenting after infertility groups that she has run, and how this guilt has been a reoccurring theme. Her hopeful conclusion: "I believe room can be made to experience the joy of conquering infertility and simultaneously sharing feelings of encouragement and compassion with those you know who are still trying."
Jay Bronte  writes that she actually feels like an "infertility traitor". But nevertheless "If I could, I'd wave a magic fertility wand and make all the women I've leaned on during these last two and a half years pregnant. Anyone who has gone through this hellish, frustrating, illogical journey deserves what they want at the end of it. Sadly, this wand doesn't exist. The only thing I can do now is offer them all of my support and hope that they continue to support me."
Baby steps to motherhood feels let down by bloggers when she does write positively:  "I feel that I have lost readers because I am no longer drowning. I feel as if I have survived the torture and no one wants to hear about how happy I am while I still fight this battle. I think this community of bloggers is amazing – the support is unparalleled, but it also seems to be click-ish and it makes me sad and feel like I am back in high school. I feel like if I don't write about how painful infertility is, I won't get any readers or comments. I see other bloggers comments rise when they pour their hearts out about their darkness, but when I share that "I've seen the light," my blog goes dead. Am I an outcast…again?"
The infertile nanny writes, while she does feel a lot of guilt, "I know how painful it was for you to see/hear about some one's pregnancy when they didn't even have to try but don't you remember how much hope it gave you to hear about someone who succeeded after years and years of trying….I could not be more thrilled about my baby because this is what I have literally spent sweat, blood, and tears to achieve. If you are still struggling hang in there….there is hope, just take a look at me."
Randy and Ashley talks about that universal hatred she had for pregnant women and how she still doesn't feel like one of them. "I still have the guilt that I made it out at least once.  Am I crazy? Or is this normal in the infertility world?"
Peanut's journey (a South African blogger like me) puts it very well when she says: "I have tried long and hard to have what we have now, many many tears were cried over this, I have supported many many people thru their pregnancies and/or birth of their babies. Do I stop this blog now that I am pregnant in fear of upsetting people with my joy? Do I keep my pregnancy to myself and not make a big thing about it ….How does this all work? It's all new."
It IS new ground, and for me, it is exciting territory. I will hold onto this joy with all my might and pray that it will last.
Do I change this blog? Does it no longer serve an infertile to be blogging about infertility when you're no longer really there?
The answer for me is – I was there. And part of me remains there. And I will never stop feeling compassion for those still going through it.
If my joy and all my pregnancy posts make you feel uncomfortable, I am truly sorry. You can hit the unsubscribe link.
But I want to tell you something important.
There is a connection between your ability to feel joy at another's successful pregnancy (or adoption) (even though you have not achieved it yet) and your own vibration which will open you up for the same success.
I had such a heart-warming comment from Elisabeth Manning (of conscious connections) on my circle bloom story (if you haven't yet made a comment there, please do – I need 20 odd more before the end of December to win! Impossible I know, but I can dream!)
"I knew it was a matter of time before your body energy shifted- your baby was there waiting for you to become who you are now, through all your beautiful growth. …Truly powerful journey of transformation. When we shift our environment inside and out to a more thriving, life supporting and life enhancing one, life cannot *help* but expand within us. Creations flow. Congratulations again and thank you for being a wonderful example of one who is "Living her YES".
I hate to say it, folks, but part of opening myself up to new life was being happy for others when their baby dreams came true. (And I think it is important as well for the duration of your pregnancy to be in a good place too – from everything I've read it does have an effect on the baby.)
It is pretty much a litmus test of where you are emotionally to see how you react to news of someone's pregnancy, or you see a pregnant woman, or you see a baby… etc… etc…
If I was in a good place I would be happy for the person concerned, and look happily upon mother and baby. If I wasn't, I avoided their eyes and kept to myself.
So keeping open and positive is part of the process towards drawing us closer to success, although it is hard on some days.
And on those hard days, I know I could take a deep breath and pray for the energy to be happy for another person. I could EFT tap and say: "Even though I am so freeking jealous of that pregnant woman right now, I deeply and completely love and accept myself and my negative feelings, because of what I have been through. Despite (or maybe because) or all this, I'm absolutely choosing to be happy for her, because I know that the joyful vibration will rub off not only on her, but also on me."
I'm not saying that positive thinking (or even EFT on its own) was enough to create my baby. I needed Dr R and Medfem's expertise for that.
But it certainly helped. And I know it can help you too.
Two bits of news to stick on the end here, although it doesn't have much to do with this…
1)      My article on taking the emotional charge out of nightmares using EFT was published in Exhale Magazine: A Literary magazine for those who have experienced the loss of a baby or can't figure out how to make one in the first place. I have a good script here for dealing with disturbing dreams. Have a read if you are interested.
2)      I'm looking for five guinea pigs to test drive my EFT Tapping into Motherhood creation. You can have a look here and let me know if you are interested. I need people who are willing to listen to my 8 audios and in return give me some reviews. Even if you are pregnant already, there is a section on future fears etc. which you will find helpful. Please leave a comment below and I will get back to you on this.
Related Posts via Categories
Comments
comments