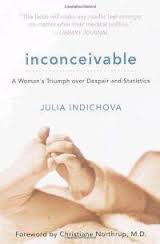 Whatever your situation or medical condition, you will be inspired by Julia Indichova's remarkable story.
At the age of 42 she had an FSH of 42 (that's bad). A number of doctors refused to treat her, based on this number. But Julia was determined to complete her family. She had secondary infertility, having married later in life. (This is also what inspires me) (By the way she conceived when her FSH was 31!)
I thought I would list all the methods she used together with my own comments.
1. A fake healer. (A humourous beginning to this book)
2. Resolve support group.
3. Vitamins B-complex, B, E, C, frolic acid, calcium, zinc. (I used a prenatal vitamin which included this, plus an omega capsule and extra Viltamin C. DH had zinc)
4. Clomid.
5. Acupuncture (I used this. I went to an excellent homeopath who also did acupuncture after examining my tongue and taking the timing of my cycle into consideration. I conceived on the same day of his treatment)
6. Chinese herbs for chicken soup. (I did use some herbal tablets at different stages, but not at the time of conception)
7. More Chinese herbs. (Teas)
8. Red sheets
9. Soups (easy to digest)
10. Dhuri fruit.
11. Warm foods. Apple cinnamon tea.
12. Vitamin E
13. Hot and cold showers for circulation (She didn't keep this up for long, only 3 months, and I have my own reservations on this, based on Angela Wu's idea that you need to keep the body warm, she says lukewarm baths. I kept them hot!)
14. Jump rope (300 per day). Yikes.
15. Fruit and juices until noon for the body to cleanse itself. Yikes, not sure if I could do that.
16. No meat (I wouldn't do this. Angela Wu recommends chicken at and after ovulation for its constricting energy. Also cutting out meat cuts out a lot of vitamins – read a case study in one of my fertility newsletters. Lastly I have a blood type O which needs meat according to the "Eat right for your type" book.)
17. No dairy. (Recommended by experts. I cut it out in my tea but not completely in what I ate). Julia had rice milk, goat's milk and yoghurt.
18. Beans, peas, nuts, seeds, cucumber, watermelon, seaweed (iodine), nettles for iron, oat straw for calcium, licorice for oestrogen, milk thistle seed for the liver.
19. She read a lot of books. 3 on juicing and she did a lot of that. Whole grains were recommended, vegetables, omega 3 foods, squash and sweet potatoes instead of deserts.
20. Wheatgrass. You know those things at health shops that look like patches of grass? Apparently it tastes awful but Julia used it because there was a study where it reversed infertility in cows within two months.
Brilliant quote at this point in the book: "If I don't conceive, at least I'll have the healthiest body I've ever had." 🙂
21. Yoga. (See my post on fertility yoga). The upside down poses stimulate the connection between the ovaries and the pituitary gland.
22. A colonic.
23. Dealing with her past, feelings of being worthy, emotions. Very interesting: her parents were holocaust survivors, so she had a lot of guilt for "wanting more" i.e. another child. See my program here for a start in dealing with emotions.
24. Visualization. Circle bloom is good for this.
25. Red clover (herb that helps alkalize the system, builds estrogen) from one of her friends she met.
Well, I hope that was inspiring if you are trying to conceive, or if like me you want to think about trying to conceive another one!
PS here is the link to Angela Wu's book – also a good read.
Related Posts via Categories
Comments
comments