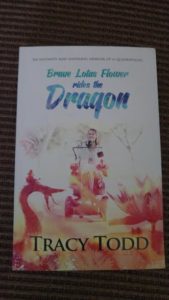 A while ago I attended the book launch of quadriplegic Tracy Todd. I was drawn to her story particularly because of what my father has been through, but also because I have heard that she is a very inspirational speaker. (For those of you that do not know the story about my dad, read about the accident here, visiting him two months later in ICU here, making it to rehab here, and a very special Christmas finally home six months later here. )
Tracy spoke from the heart and I captured a few of her words on some video. The name of her book has a special meaning. Her second name is Lian which means lotus flower. She describes how, as a brave lotus flower, she has had to push through the muddy sediment of her disability to seek the light. The dragon represents her disability – she makes the point that she has not slayed, but she has tamed it. And one of the challenges she had to work with was her computer software which also carries the Dragon name. If you look at the cover of her book you'll see how artfully all these elements have been captured to show how a beautiful woman is riding this terrible creature, and how it has taken much bravery to emerge with a smile on her face.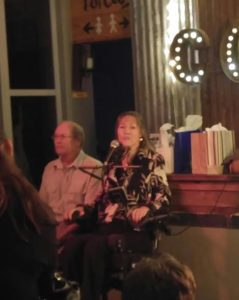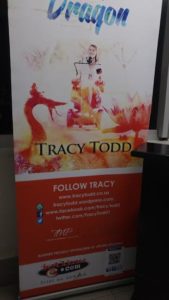 I think the poignant thing about the book is that it really takes you into her skin and her experience.
Her accident was a tragedy. I will just say that recently on Facebook someone who read her book was mentioned that they will never travel in a car without being buckled in again. It's a chilling reminder about how important it is to be strapped in, although it also highlights the dilemma of a mom who just wanted to change her child's nappy in an area where it wasn't safe to stop.
In one of the early chapters "Living under lights" she takes us through the experience of living in ICU where the lights are always on and the nurses continue their conversations over you. My father spent months in ICU and I know this experience was hard to live like that, never mind all the fights he sustained for his life.  Watching a doctor look at her chart without talking to her:
It was as if my inability to speak diminished my value and worth as a human being.
My father spent more than two months unable to speak. I can't even imagine how hard this was.
Tracy progressed to a Spinal Unit (like a rehab cente) and her work to heal continued. She describes how little things like having a gentle nurse and her first real shower and having her hair done were meaningful to her.
Tracy arrived home to an adjusted environment but I was desperately trying to understand how this alien body of mine worked and I often felt like a complete stranger in my own home.  However she also tells us about special moments such as being able to have close physical contact with her little son: I inhaled the smell of my baby boy as though I was savouring the scent of a rare flower. She credits motherhood as also being a healing part of the process.
However Tracy had to endure more challenges as her marriage crumbled and she lost the custody of her child. Through this all she identifies angels who helped her through, be they carers or special friends. She also is completely frank about suicidal thoughts and actions and the people that saved her from herself. One of the experiences she found particularly releasing was going for a trip in a microlight plane.
Nothing had changed physically, but that day my mind began its slow metamorphosis. The anger, bitterness and resentment which had held me captive for so long began to dissipate. I started seeing life through different eyes and with a far more positive attitude.
With this new path she started speaking in public for an appreciative audience.
Tracy is also very honest about her experiences as a single woman and how she started to date again. I won't spoil the story but I will say that it does have a happy ending and she did find a man who could love all of her as she was.
I think this book should be compulsory reading for anyone who wants to understand the complexities of not having the use of your body. Tracy writes in an incredible way as she takes us inside her world of just wanting the use of her arms to hug her son and sitting at the mercy of a mosquito buzzing around her room at night.
Most of all however, I am left with her gratitude of those who have helped her on her way. She calls them angels.
And I know for sure that there have been many many angels that have been in attendance helping my father every step of the way. Most of all my mom.
My father continues to battle the dragon of his paralysis. It is hard. Recently they had to help him cough for four hours during the night. My heart just goes out to my mom, the carers, the physio and the doctors looking after him.
But above all of it they rise above and alongside the dragon.
And count their blessings.
That is inspirational to me.
Find Tracy:
Website, blog, Facebook, Twitter
Related Posts via Categories
Comments
comments