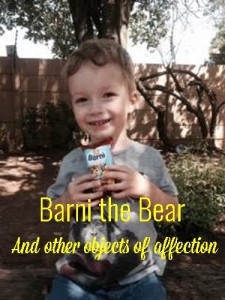 On Friday as I pushed Nicky in the trolley into Pick n Pay I was initially destined for the fruit and vegetables. The healthy section. I was going to see if I could get Nicky to eat a banana again. However, something else had caught his eye as we walked in the store. It was a bear shaped sponge cake with a hidden chocolate centre called Barni.
Now bears have a firm place in our family affections (I call my husband "Bear" and often call Nicky "Little Bear") And of course, Nicky loves chocolate. So, I decided to let him have the bear, but not open it, as a chocolate mess was not something I was up for. As it turned out, he was content just to hold it happily and look at the picture as we continued to shop.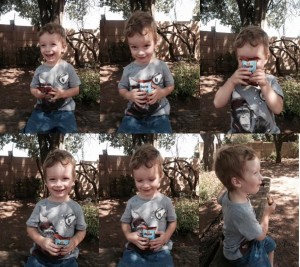 When we got home I could open it up so that he could make the desired mess. For some reason he always lands up with a very dirty face in the process of eating. We have gone back to wearing a bib for breakfast so that the oats don't mess up his clothes.
Anyway, this sponge cake bear got me thinking. It always seems like Nicky needs some object of affection to take with on a journey, and that sometimes just holding it is enough.
-We've had trains that were carried around the shop.
-Any car will do.
-Lots of chocolates will do!
-He likes "juicy" – a firm favourite at the shops to suck on.
-In this hot weather he likes ice-cream too – this is his Sunday treat at the Spar when I get the paper.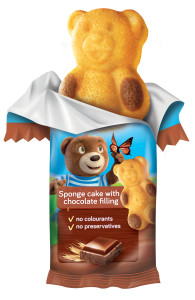 Even though I want my boy to be healthy I also believe in moderation in all things, including treats, so a Barni bear is a good treat for the following reasons:
it's a delicious bear shaped sponge cake with a hidden chocolate centre surprise.
just the right size to fit into little hands
it's a tasty treat for three year olds and school going ages.
it contains no colourants, preservatives or trans fats.
if it helps for Nicky's security as an object of affection for a shopping trip, I'll be happy to help him in that way.
Barni is sold as single units or in a box of five, with a recommended retail price of R5.99 and R27.99, respectively. I see my Spar down the road at Fontainebleau is selling them from the boxes at R4.99 each.
Watch the advert below to check out this little boy's adventure with the bear in question. The advert features a story of a little boy who is taken on a journey with Barni the bear. They explore a magical world of wheat fields, sponge cake hills and a chocolate river navigated on stilts.
I think that is what is so cool about this bear: it ignites adventure, curiosity and fun. Since children learn and also process emotion through play, it reaffirms what is delightful about childhood: go out there and explore the world.
What do you think of this as a treat for your child?
This post was sponsored by Barni.
Related Posts via Categories
Comments
comments