It has been a very long time since I have blogged here but my life is very full. I do spend a lot of time on work, SA Mom Blogs and of course, my family. I think when Nicky can go to sleep by himself I will have a lot more time, but until then here is a synopsis of what's been happening with us.
Nicky is currently obsessed with all things to do with rockets and space. Do you guys remembered my previous post about how he wanted to go to the moon? Well that hasn't changed. At night he looks at the moon from the kitchen door (as we go on yet another trip for food/ delay bedtime) and says mournfully "When I can go to the moon?"
Ah Nicky, I do wish I could give you the moon. But until then we will just have to play with rockets, read books and watch videos of launches.
He did space as a theme at school and they made rockets out of toilet rolls. This was a big thrill. But also an opportunity to get it just right. I think we have done that rocket at least three times, changing the colour of the point on top and the rocket itself.
The library had a display of space and I managed to get some books for him about space shuttles and astronauts. I find it very interesting that the space shuttle goes up like a rocket and comes down like a plane. I am getting educated too.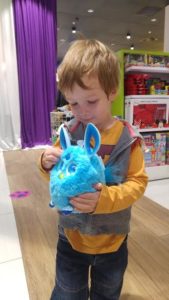 2. He also has a thing for Furby, the new toy we went to look at on Friday at Toy Kingdom at Sandton City. We have been playing with some Furby apps on the IPad too. I think it has been a bit of a parenting lesson (and a blogging lesson too) that to go and play with said toy, do all the social media etc and then take him away was really hard. He has been moping about "When are we going to get a Furby?" but I explained that Furby is very expensive (more than all our shopping at Pick n Pay) and we need to eat rather than have Furby.
I also got out a bear that DH bought him a long time ago (Tatty Teddy), who sings if you squeeze his hand and explained that Tatty Teddy is way better because he has a glow in the dark nose. I read the Tatty Teddy book and distracted him again.
Whew, it is hard work sometimes, this parenting thing.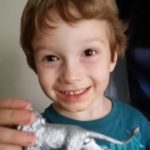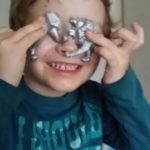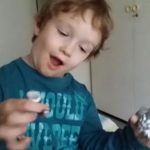 3.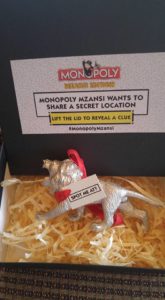 Another behind the scenes blogging story: We received a lion as a teaser about the new South African themed Monopoly. It is silver and when DH first saw it he made a comment that it looked like there was chocolate inside. Well Nicky latched onto this and kept on about how we must cut the lion open to eat the chocolate. And no matter how much we told him it was solid plastic, he just would not believe us.
I suggested that we take the lion into the bath to prove that it would not melt, which we did. Nicky has two favourite bath toys (Zebra and Parrot, or "Zeebra and Pawit" as he would say it). I explained how lions eat zebras and we hid Zebra away with Parrot standing on guard to protect him. So that was fun.
Well the next day when he was still whining about cutting open the lion I just had had enough and told DH to cut it open.
Well, what do you know, there was only plastic and a hollowed out centre inside. No chocolate. But this was a great story to tell Zebra that he did not have to worry about Lion eating him anymore.
4. I am still enjoying my job but I have two new little ones who are keeping me on my toes. One is putting things in her mouth and the other is hitting. But they are so adorable otherwise. Little toddlers have a lot of love to give and are very affectionate.
5. My father continues to work hard in rehab despite several health challenges. He has these autonomic dysreflexia episodes and high blood pressure, so the carers are working around these issues. On the positive side he has been making some trips to the gymnasium and doing some physio there, plus outside OT. He has been spending as much as three hours sitting in a chair. He is eating liquid meals.
My mom in the meantime is altering the house to make it wheelchair friendly. They are going to move into the flat, which has a sliding door to enter. Other doors are being widened and a ramp is being made between the flat and the kitchen.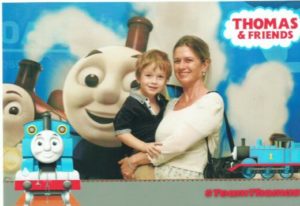 6. We enjoyed the new Thomas movie this afternoon. Nicky had his face painted, raced trains, took pictures and coloured. The movie is also a feel good one about doing the right thing and helping your friends rather than winning the race.
So that is all I can think of for now. How are you?
Related Posts via Categories
Comments
comments