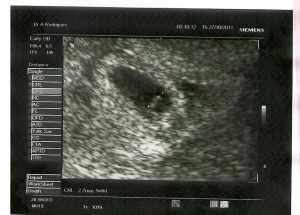 Today was my first official pregnancy scan.
Off we went very early in the morning to get into the queue of people at Medfem. It wasn't so bad. We waited about an hour to see Dr R.
I am five weeks six days pregnant, so it was just one day shy of six weeks. So it was slightly too early to hear the heart beat.
It looks like a little egg sack. Very small at this stage, but is there. Just where it should be, in all the right places, and most definitely on track. What a relief.
It was so cool having B there to see the images on the screen. We could enjoy this miracle together.
I made sure the receptionist made a copy so that he could also have a picture to show his boss and other selected friends at work.
Our expected due date is 22 June. This is becoming very real now.
I asked him about how long it would be until we have to find another gynae and he said he will take care of me for the first 12 weeks of the pregnancy. I will see him every two weeks. He did recommend some people to me.
I asked him about the thyroid tablets – since they are helping me so much can we put them on chronic medication with the medical aid and he said sure, I just have to get the forms.
B was also worried about me going to gym, but he said it is fine, so long as it is what I normally do. He said only to worry if I have spotting etc. I haven't had any blood at all.
It is really sinking in now and I really feel this glow of gratitude all over me.
Related Posts via Categories
Comments
comments