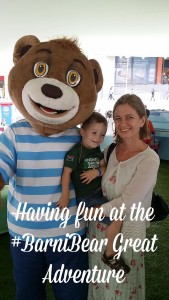 We had great fun at the #BarniBear activation at the Zone in Rosebank. Barni the Bear's Great Big Learning Adventure is at The Zone in Rosebank from Saturday 12th until Friday 18th December 2015 and is open daily from 10am – 4pm. You'll find it next to Nino's restaurant in a tent by the parking lot across from Fournos Bakery. Entrance is free.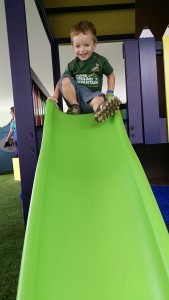 The first thing Nicky did was to play on the playground which had stairs, a central platform and a slide. He went round and round a few times to much enjoyment.
Then we showed him the chocolate river and cornfield and he kept going on those two like an energiser bunny. The "river" consists of stilts that the kids must climb over (like stepping stones) over chocolate coloured balls. The "cornfield" has vertical sponge noodles which the kids may run through.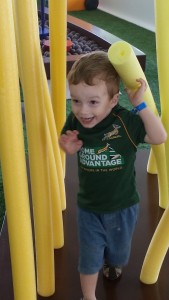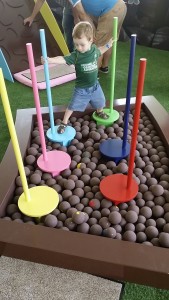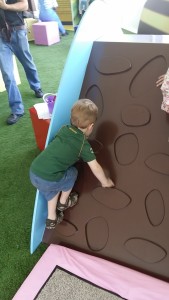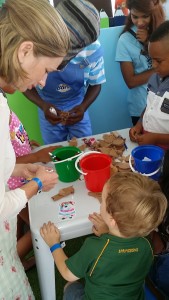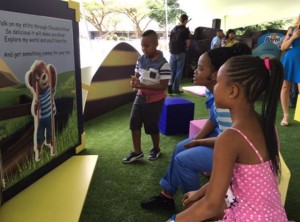 There was also a section that he had to climb over, which he needed a bit of help to do. Then there was an arts, crafts and colouring station where he made a finger puppet (okay it was made for him) and he did some scribbling on a picture.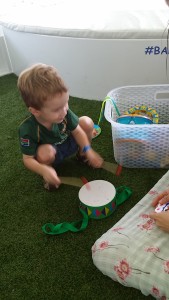 There was a musical part too and Nicky enjoyed banging the drums.
The Barni activation also features a pop up story book which follows the story of the advert (the bear taking the boy on an adventure) with a movable Barni which Nicky had fun moving up and down with a lever.
By this time it was time for the "Barni show" that happens every hour, and which involved a bit of dancing and singing. Nicky moved around too! At the end he got to give Barni a "high five".
After this Nicky enjoyed eating the actual Barni and we had some food. He had three of the sponge bears before passing out on the trip home. I think he was pretty exhausted after all that running around!
Related Posts via Categories
Comments
comments