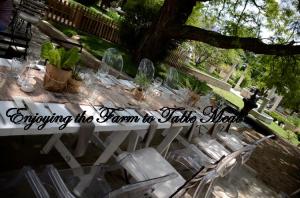 Back in February I won a meal from the Forum Farm to Table lunch through Rattle and Mum. They gave me the option to choose a meal right up until September. Figuring the older Nicky was the more he would eat, I left it for as long as possible. That is how we landed up at the "Fete de la gastronomie", a French inspired meal brought together by the forum, the French Institute and Kaya FM.
Life always seems to have other plans. My biggest concern leading up to this lunch was co-ordinating it with Nicky's nap time – he normally sleeps over lunch. At the moment he goes to sleep around 12, which was the starting time for the event. As it turned out, the poor little dude spent most of the previous night puking. He was better the next morning but desperate for sleep so he landed up napping really early at 8:30am. This worked out well for us in that he had had at least some sleep before we left.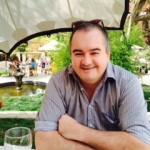 When we got there I was impressed by the lovely environment. It is set up in a place that makes picturesque fountains. The tables were set out on different levels, surrounded by greenery and protected from the sun by shade cloth.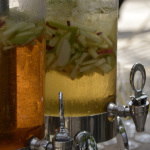 We started our meal with a platter of bread and pizza. I should note here that we could not help but take a break from the low carb diet. It was just too tempting! Ah delicious bread. How I have missed you. We also had this amazing drink. I have no idea what it was but it reminded me a bit of ginger beer. Nicky had a few sips too. By the way, due to recovering from his stomach bug he did not eat anything but he did drink the fruit juice.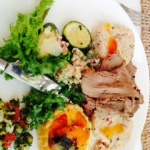 We then went to the buffet for starters. We particularly liked the quiche. They had cold meats and pate.
After that I decided that Nicky needed to walk around. After one walk he didn't want to stop! No ways was he going to sit at the table. That was way too boring. So we were off to explore.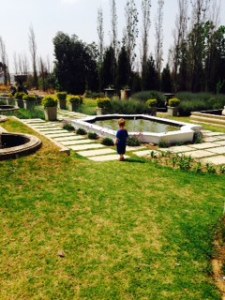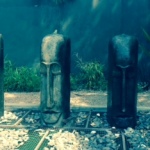 We had fun looking at all the fountains. How interesting are these monolithic heads?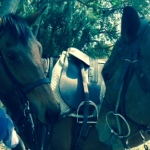 We even saw some horses and they were giving rides to kids. Nicky was a bit scared to ride though.
I must mention that as we entered the venue there were child minders available to look after kids. I wanted to take Nicky with us, however. There was also a waiter who was very friendly and helpful and offered to follow Nicky around.
However, I am one of those neurotic parents who want to follow their kid, and plus I don't think any of them were quite up to Nicky's energy. Off he went. We found a dusty road and he was in his element, kicking up the dirt. As you can see from the picture he was far ahead of me.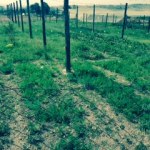 We also passed a netted area where it looked like there was food growing. Farm to table, hey! B phoned me to let me know the next course was there so we headed back.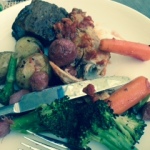 The main meal was delicious. Tasty lamb, chicken, baby potatoes and veg included broccoli and carrots. By this time Nicky was really tired and cranky (mostly because of being confined to the table) so we went straight to having desert afterwards. I thought he would have a bit but he didn't!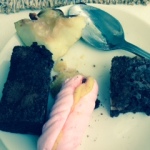 A healthy option was the apple which had almond cream. The brownies were my fave of course. The meringues were sumptuous as well. By the time I remembered to take a picture I had eaten most of the apple!
Home we went and all three of us passed out!
I want to say a big thank you to Hazel and Jade at the forum company and Tanya at Rattle and Mum for giving us this fantastic gift of a meal. We really enjoyed not only the food but also the surroundings.
Related Posts via Categories
Comments
comments