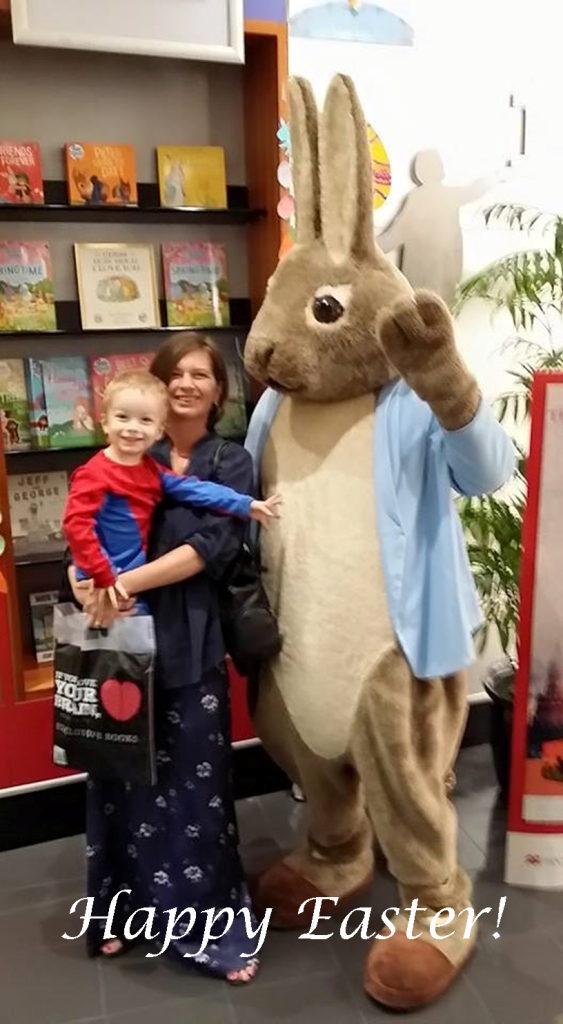 Happy Easter everyone! I hope you are having a relaxed weekend with your families.
**
So I'm sure you're wondering how the diet's going… Well, some good, some bad…
This week I made a bit of a mess up with my lunch. I added raw rice instead of cooked rice to my lunch (since it is such a mission to make I am doing one lot for the week) so this week it was sandwiches. This afternoon I precooked this week's lunch and it is an improvement. Potato and three bean mix. Very healthy. Just very spicy and next time I won't add so much chili powder.
I was really going to be good this Easter weekend. However I was too tempted when DH came home with a box of those marshmallow eggs and a chocolate  bunny from his work.
He offered me his bunny ears.
I couldn't say no to the ears.
On Good Friday morning I had a nice sleep and and DH watched Nicky. He woke me up saying I better make breakfast because Nicky is eating one chocolate marshmallow egg after another. Okay, three in total, actually.
"Why?"
"Because it's Easter."
I just had to have one too.
I've been pretty good the rest of the time, apart from two hot cross buns. Sigh…
Nicky has been ultra cute playing with a new dinosaur toy, by the way. He calls it "Roar!" because he can't say dinosaur and also because we read a dinosaur book about a dinosaur that roars a lot. He went to bed with a bear and a dinosaur all tucked in next to him.
Happy Easter from us! May you be very blessed! He is risen!
Related Posts via Categories
Comments
comments