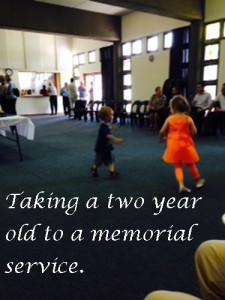 A relative of my husband had passed away so we went to the memorial service. Although it started at 11:30am I wasn't that worried about nap time since for the past few days he hasn't been sleeping in the day at all (apart from yesterday which was a very late nap). I knew he could stay awake. The more important question was: would he behave?
We sat one row from the back and initially Nicky was very quiet. (Probably looking around at the novelty of a new place). As proceedings began I hit on the idea of feeding him with cookies from my bag to keep him occupied. That only lasted for so long.
I gave him a car to play with. The problem with that is that he started making "broom-broom" noises to go with the movement of the car and also throwing it at the people behind us, who very kindly picked it up.
Everyone stood up to sing the first hymn (The Lord is My Shepherd) and he got very distressed. He doesn't like me standing up in church and prefers someone sitting down with him so I sat and sang.
As the preacher started talking seriously, he stood up and made a noise, which was our cue to leave. I think he lasted pretty well.
We went outside to explore. We climbed up a flight of stairs (which he loves doing) to look around from a higher vantage point.
We then went all the way down and round the corner and found a playground with a jungle gym.
BONUS. PROBLEM SOLVED.
For the rest of the time Nicky climbed on the jungle gym as happy as anything. DH phoned me when the service was over and we went to the hall to have tea and eats. Nicky liked the messy sweet stuff. There was also some water there for him.
Towards the end as the crowds dispersed Nicky had tremendous fun chasing a 4 year old girl (Madison) all over the hall.  DH was chatting to family and we resolved to meet up again sooner rather than later, especially as this is the closest relative in age to Nicky.
After all that running around little Nicky fell fast asleep on the way home.
My advice to you if you are taking a two year old to a memorial service or funeral: sit near the back where you can easily leave if you need to. Look around for a place to play. And chances are, if you are lucky, there might even be other little friends to play with in the end.
Related Posts via Categories
Comments
comments