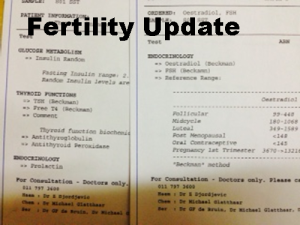 A little update on our attempts to give Nicky a little sibling.
First of all the blood results are in.
Insulin Fasting: 4.5 (should be between 2.1 and 10.4)
Thyroid TSH: 1.54 (should be 0.35 -3.5)
Free T4: 15.9 (should be 7.6-16.1)
Prolactin: 8 (should be 3-27)
Day 3 test:
Oestradiol  <73
FSH 10.1  (should be 3.9-8.8)
***
Dr R says these are numbers he can work with, so that is good news.
However we then went and had the Day 10 scan and he hummed and hawed and said that what he was seeing didn't match up with the blood tests. After the scan he said my uterus lining was a bit on the thin side. He asked if I had any sugar lows, even though my insulin test was fine, it could be affecting things.
So he prescribed Glucophage. Let's see if this helps!
I guess I have been so concerned that Nicky has all his snacks and I offer him food frequently, but I don't do the same for myself and it's a bit of a wake up call to look after myself and my health.
I've also been doing my own research and came across this post which recommends pomegranate juice, raspberry tea and Vitamins B and E. I'm already taking a lot of B with my multivitamin but I guess I can just add some E to the mix.
Related Posts via Categories
Comments
comments