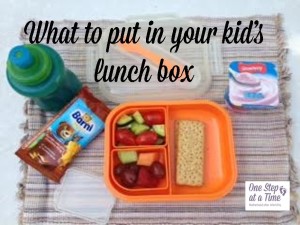 Back when I was a kid I used to have jam and cheese sandwiches for lunch pretty much every day. To this day I still love those sandwiches. (Nicky prefers them without the cheese. In fact he will eat jam by itself). These days packing lunchboxes has become quite an art and when I was a teacher I was amazed at the effort that went into many of the kid's lunches.  Take some tips from this post about what to put in your kid's lunch box  and share your own ideas too.
Recently I bought a book called "Sustained energy for kids" by Steenkamp, Merlin & Wellmann which has some useful tips about how to portion out your lunchbox. These are some of their ideas together with my own suggestions.
Fruit and or Vegetable: Half the lunchbox, at least two different colours. e.g. pineapple, grapes, cherry tomatoes, carrots. I think the trick here is that the fruit must be able to last or be suitably sealed for freshness. In the photo I made a salad of cucumber and tomato and a fruit salad. Nicky ate all the fruit. He loves cucumber and demolished that but left the tomatoes!
Protein: One quarter of the lunchbox, the size of the child's palm of the hand e.g. tuna,  mince, chicken, egg, cheese or yoghurt. Nicky is a big fan of yoghurt and there are a lot of benefits to it, so this is an easy option.
Slow Release Starch: One quarter of the lunchbox, one fistful e.g. rice, pasta, legumes, potato salad, popcorn, or baked treat like a muffin.
Fat e.g  1T nuts or seeds or salad dressing, or mayo or avo. This category isn't necessary if you're having a baked or any other treat.
Drink: e.g. water, ice tea, diluted fruit juice
Treat Special days are for special treats! Pop in a Barni in your child's lunch to make them smile. This sponge bear has no preservatives, colourants or trans fats and contains a delicious chocolate centre.
What tips do you have for lunchboxes?
This post is sponsored by Barni.
Related Posts via Categories
Comments
comments