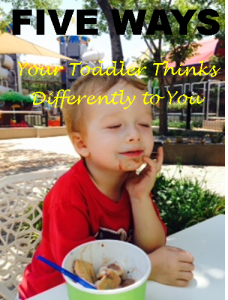 It shouldn't come as a surprise that a toddler thinks very differently to an adult. They do have a very young brain, after all. I've collected a series of how my little boy has a very different approach to life than me. Sometimes I have to say that his way is probably the more creative and fun perspective.
1. WATER
Adult: This water is for drinking. Here's a cup of water. Now drink it.
Toddler: Oooo. Water. This is fun for pouring. Let's pour it all over my table and make a big mess.
2. PLAY DOUGH
Adult: This playdough is going to keep you busy while I get the food done.
Toddler: I am going to need help with my playdough every 10 seconds or so. I am going to grunt that I can't roll it. My cookie cutter dropped on the floor and I need help finding it. I want to balance my cars on it and this car fell off and please help me put it back in this awkward position. Then when it falls again please help me get it back.
3. PACKING AWAY
Adult: Please pack the toys away that are lying on the floor.
Toddler: I think it would be much more fun to put the toys all over the couch, on chairs everywhere and in the bath. I think they make nice decorations.
4. BATH TIME
Adult: Bath time is to get clean.
Toddler: Bath time is to throw water. Drink water. Throw toys. Does it still count as bath time if I've spent most of the time out of the bath throwing my bath toys in, then going in and throwing them out again?
5. MEAL TIME
Adult: Food time is to eat food.
Toddler: Food is optional. I'll eat when I'm hungry and most of the time that is not going to be at meal times. I way prefer cookies to food. Don't worry mom, my food won't go to waste. The dogs will get nice and fat.
Related Posts via Categories
Comments
comments