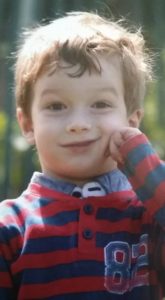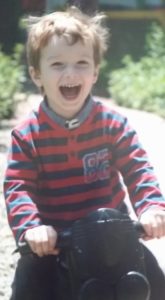 This past year has brought both good and bad things, and I thought that it is time to look back and also showcase some end of the year pictures of Nicky.
The major change that happened this year is that I went back to work. This has been a hugely positive thing both for myself and for Nicky. We have found a beautiful school, set in a park. I have a lovely boss and Nicky goes for Nature walks along the river. I couldn't be more blessed. True, little toddlers are a handful and I work for it, but honestly this is a good set up for which I am very grateful.
Another real positive this year has been blogging. I am so grateful for the opportunities I have had and the meetups we have had through blogging. And for the income starting to trickle in.
On the negative side my dad had his accident. This has affected everything not only about his body but also about his future plans. However he is coming home for Christmas this Friday and my mom has done wonders with the house to make it a welcome place and wheelchair friendly. The fact that he is alive is a miracle in itself and we are grateful for that.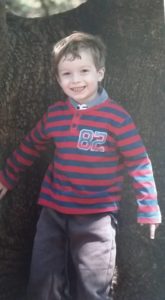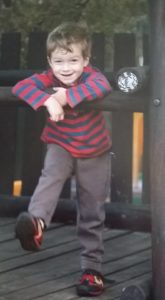 Towards the end of the year a photographer came along and took some pictures of the children. Having the class sit on a huge tree with gigantic roots was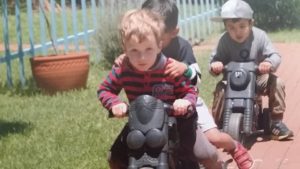 really special. Some of the pictures also really show a lot about Nicky's personality – riding on the bikes (he loves vehicles and racing), hanging out on the jungle gym with a playful kick (shows his sense of humour) and also a reflective one against a tree (a contemplative look).
We had our end of year concert. Nicky dressed up as a traffic officer (well, actually a policeman because that's the closest outfit we could find) and he had some cute words to say: "Hello, my name is Nicky Step, I am a traffic officer and I help people obey the rules of the road", followed by some even cuter hand movements.
They did poetry and dance and once of the songs that sticks in my head is "Children of the Sun".
We are children of the sun We stay forever young Our light is burning brighter than the wicked things that we have done But now love has begun And we are still the children of the sun
So true, folks, your light does burn brighter than any wicked things you have done.. and I think especially as parents we can relate that the light our children give us is far brighter than all the grief!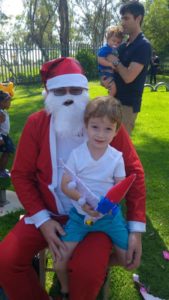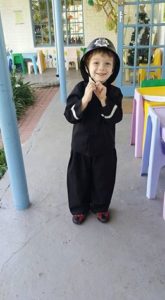 The other highlight of the day was Father Christmas coming along to deliver presents. DH had the honour of playing this role and Nicky figured it out fairly quickly. ("Why is Dad Farmer Christmas?") I told him he was doing something special for the school. Nicky is aware that Father Christmas does deliver presents ton Christmas day though.
With that done and dusted, we started our holiday program and made lots of various holiday decorations. I was also very sick over this time and after visiting the doctor was on the mend and ready to hit the road.
I am writing from PE and I am so glad that we have made it. So good to be home with my family and I wish you every blessing and rest over the holidays.
Merry Christmas!
Related Posts via Categories
Comments
comments