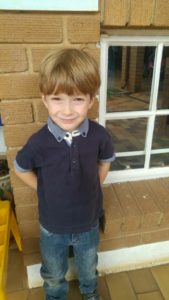 This year marks a change for myself and Nicky. He will no longer be accompanying me every day to school. He has grown up into a Grade R child and is now going to a new school.
We are both very excited about this stage but its also bittersweet. I will really miss my Noodle in the long morning traffic. It's also nice knowing exactly how the day went and not needing to ask. It's nice that I knew all his friends personally.
However in a sign that he is growing up he actually said to me this week that he doesn't need to tell me everything about his new school. I know he is happy because he sits right down and starts playing with his classmates. He also has a good teacher.
It's time for this mom to let go and allow her little boy to grow into the big boy she knows he can be. I've been making a point of calling him a big boy lately and have started to notice other ways he is maturing.
He dresses himself.
He is able to swim without his "backpack" but chooses most of the time to still have it.
He builds and creates many different houses, cars, tracks etc.
More bathroom independence (although unfortunately the bathroom humour hasn't stopped)
He created a whole Paw Patrol story which I wrote out in a book we had from Wimpy.
There are so many ways my boy is growing up. I'm very proud of him and this big step we are taking.
Related Posts via Categories
Comments
comments