Hello bleeps!
I am still on holiday this week and have been getting quite a lot done. Went to the traffic dept., paid all fines and got my new driver's license. I upgraded my phone (still getting used to the touchscreen, but at least it is still a blackberry). And lots of other stuff. I plodding my way (very slowly) through work too.
As far as baby stuff goes two more items have been added to the room: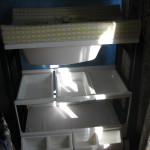 The compactum (which is a combination bath and changing station) which is one of the last lot of things B got from his friend at work.
On Thursday we went to the midwife and all is still looking well with the baby. She was a bit worried though about me looking a bit pale and set up some more blood tests which I did on Friday. For one of them I had to fast and then drink this glucose mixture an hour before so I assume that's for blood sugar levels. Although I have been feeling a bit on the weak side I have put it down to the pregnancy, so knowing it could be the iron thing also is reassuring because it will just mean increasing those tablets.
On Friday (after the blood tests) we went for the 3D scan. At first I really couldn't see much. Little PB insisted on putting his hands in front of his face. He was also nestled in at a difficult angle. However later on we got a nice video of him where you can see the eyes quite clearly:
And another one where he is sucking his thumb.
3D scan: Baby sucking thumb
It was really quite special and just makes me long all the more to meet him for real.
I am feeling very grateful and blessed to have this little one kicking inside me. 
Related Posts via Categories
Comments
comments