Thanks again, bleeps, for all your support for Marwil and Mo. Mo has lost her little one, and she gave him the most beautiful name, Nadav. I continue to hold these two strong ladies in prayer. I also want to mention this stunning poem written by WH Auden which Jjiraffe posted which kind of really summed things up – I challenge you not to read it without balling your eyes out…
It just makes me appreciate what I have all the more.
Xxx
Onto happier things…
I have a little kicker inside me.
Seriously, for the past week, every day, I have been feeling the most miraculous little kicks. It especially happens if I sit still. Baby has even been doing something like somersaults which makes me feel queasy.  But I am so in awe of this little life inside me, I'll take every movement and appreciate it very much.
2. We have some stuff for the nursery. B has got some stuff from someone at his work. This includes an adorable eating chair which has a purple eating place and a chair full of bearpictures. Perfect for our little purple bear.
We also have a bouncy chair.
I can really just imagine our little one doing his thing on these pieces of furniture. (Throwing food? Bouncing up and down? Sounds like fun..)
3         My tummy is also growing.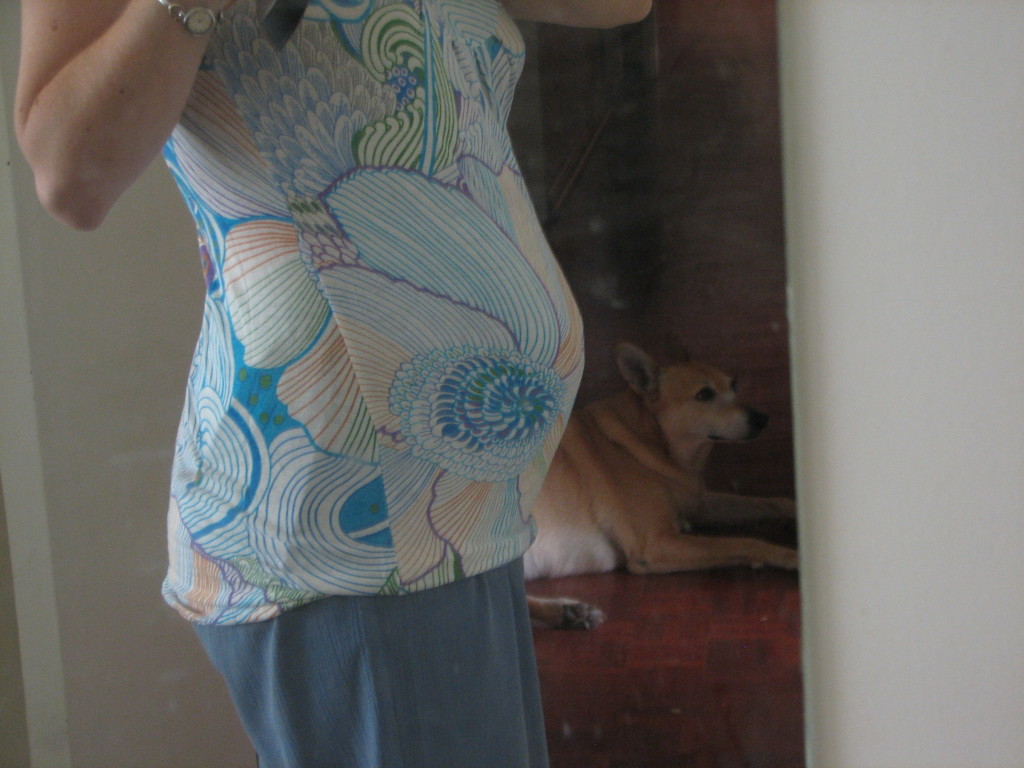 23 weeks bump
4. My boobs are still growing. I have now invested in two more bras – what a difference to have that support! I just can't believe I am now a D cup!
5. I actually went to a breastfeeding meeting. This after every time I have contact with my mom (the La Leche  League guru) hearing "Have you been to a meeting yet?" and getting unsolicited emails from all her boob club friends up here.
It is a bit intimidating to be surrounded by moms whipping out their boobs and feeding their kids, but I did learn a lot. I know a lot of people struggle to breastfeed so the more info I have (whether I decide to do it or not) the better.  I just hope I can surmount the pressures from my mother and actually make decisions about this for me, and not because it has been shoved down my throat my whole life.
6. We have hired a doula! (This was my mother's other nagging point). The best possible choice for us will be my cousin's wife who is still training to be a doula, but we don't care, we just believe it will be so nice to have someone from within the family fulfilling this need for us. I know it will bring us and the cousins only closer.
7. There is a new Fertility Conference coming up soon  – I'll let you know the details early next week. Suffice to say, apart from all the really useful fertility info,  they will be interviewing some of my fave infertility bloggers. I can't wait!
Well that's all from me for now!
Related Posts via Categories
Comments
comments