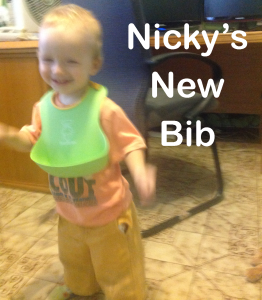 Nicky's eating has definitely progressed these days. He is better able to communicate what he wants, and will stand, grunting, by the biscuits or the fridge to show what he wants. He especially likes to grunt when we are eating to tell us that he prefers our food to his. (I am still giving him some baby food as well as our food).
He is now able to even eat yoghurt by himself with a spoon.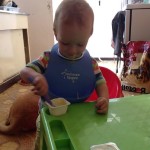 As you can see, the tommee tippee bib in this picture has seen better days. I started using the plastic bib when a friend of mine from the La Leche League group told me she put snacks in the bib for her toddler to help himself. Well, that didn't work so well but it certainly protects his clothes. It also has the bonus that if food falls into it (when it misses the mouth) he can still scoop it out if he wants.
I have been meaning to get a new one for ages as it has become cracked and come apart at the neck. So, last Thursday, when I saw Babygroup was having a sale and they had a picture of a Baby Bjorn right there, plus there was free delivery, I decided it was time.
Online ordering is pretty easy and convenient for moms who are busy with babies and toddlers, so the process is easier than getting in the car and driving to Baby City. What's more, when Nicky was crying in the middle of the transaction, and I didn't get to finish things up, I got a phone call from them (James in his very posh British accent) to complete the sale via EFT. The next morning I received an email from them with all the bank details and I sorted it out. Monday morning there was a FedEx truck outside my door with the bib!
So, what do you think Nicky thought of all of this?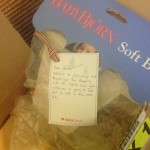 Of course he loved opening the box, and the rustling paper. Inside was a very friendly note.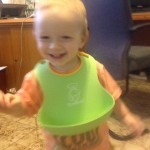 Nicky put the bib on by himself and proceeded to run around the room with his new bib. He was thrilled.
It worked really well for meal time too.
Here he is having lunch. He is a bit grumpy because he just woke up: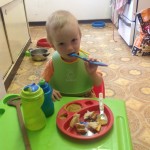 Here he is having supper. As you can see by the mess, he enjoyed the meal.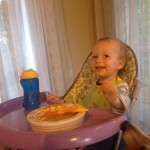 What I like about this one is that it is soft and it seems to have a threaded section around the neck which I'm hoping will make it last longer than the other one.
Thanks, Babygroup!
This post does contain affiliate links. You can also become an affiliate of Babygroup here.
I'd also like to show you two videos of his favourite word. In case you haven't guessed, it's "Out!". (He likes to go out). In the first one you actually see the car keys in the video. He wants to go out in the car.

In the second one he is saying "Out, Dad!" He wants us to go out to fetch dad.
Related Posts via Categories
Comments
comments