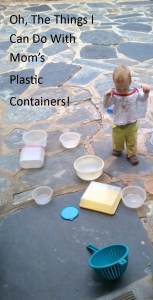 Nicky has his own personal cupboard in the kitchen. It keeps him occupied when I am busy cooking or doing dishes.
Here is a list of what he gets up to with them. Of course there are probably more things I could be missing.
1) Throwing. This is the first thing he normally does. Always fun. Especially when it makes a lot of noise. I have wised up to which containers make more noise and now the popcorn container and the lemon squeezer have changed locations.
2) Put them all in a row. Even the truck gets parked next to them. Sometimes the containers go for a ride on the truck.
3) Take them outside. Often he will take one or two behind the kennels (where it's really dirty) and have fun with them there.
4) Pour sand between them. Rather than throwing sand in the kitchen I am working on him putting it in a bowl. Even more advanced is to pour the sand between them.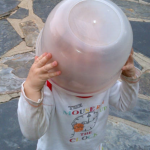 5) Put the container on your head. Oh this is so much fun.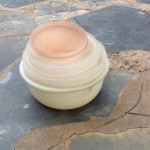 6) Stack the containers. We have so many stacking exercises in the house, but in the spirit of real objects being better than toys, plastic containers are just as good. Of course he didn't do this by himself. I helped him!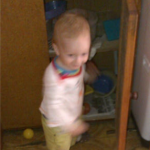 7) Put them back. We are working on this. But every now and then he spontaneously puts some  back, or gives them to me to put back. I also do it with him. I am so super proud when he does this without prompting.
Oh, you're probably wondering, how on earth can she just put those containers back in the cupboard without washing them? Well, I don't use them, and they are just going to get dirty again. If I do really need to use a bowl, I just make sure I wash it thoroughly!
Related Posts via Categories
Comments
comments