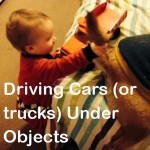 Nicky loves anything with wheels, but for him there is more to playing with them than moving them back and forth. One of his favourite things to do with cars is to drive them under various objects.
He will stand next to furniture that is the right height and line all his cars and trucks up. This can be a couch or a bed.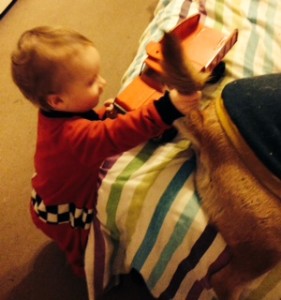 On the bed, our dog, Coffee, is often lying around, and he loves to drive his cars under her tail. Or should I say, hold the tail up vertically, while driving the car next to it.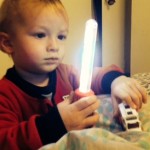 He also had fun driving a car next to his light sword toy.
Another fun thing he likes to do is drive around on his scooter. Then, if we are sitting on the couch we must lift up our legs in a certain way as he drives past. He takes great care to put the leg up and down in the way he wants.
He also takes cars into the bath and moves my legs back and forth around where he wants his car to drive. One of his cars that often has a 'car wash' has been in the bath so many time it's paper eyes have completely come off.
In short, this boy loves cars and I'm sure can't wait to drive a real one. He still loves to spend time in my real car, playing with the steering wheel.
By the way, thanks for all the supportive comments on my weaning post. I will keep you all updated with how things are going.
Here are some fab pictures of myself and Nicky, at 25 months. As you can see, he is holding cars. In you want to know where I got that nice teal top from, read about my day of fashion here.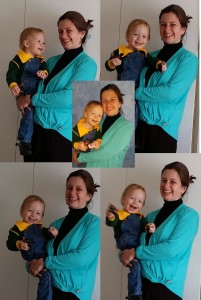 Related Posts via Categories
Comments
comments