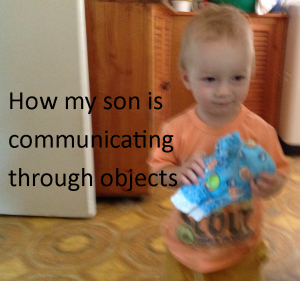 It would probably be true to say that the majority of the communication between parent and toddler consists of a number of grunts – "My truck is stuck, please help me!" and cries – "I just woke up, please feed me!" But every now and then I am struck by something special that Nicky does, in this case using objects to tell me something.
1) Affection: Nicky can come to me with his arms open for a hug and he is a very loving boy. But he also has some quirky ways of showing love. If I stick my feet I his bath at the end of the day he loves to pour water over them. This is cute enough but it becomes less so when he flings handfuls of sand in the kitchen. We clean it up together.
2) Hunger: Nicky likes to go into the cupboard and get cutlery. He has ones he particularly likes – a little blue spoon, and a white plastic fork. He even went all the way to the dining table with his spoon as if to say: "Hurry up, mom, I'm hungry!" This doesn't always happen, but I do give him some choices and today he grabbed a banana out of the fridge when I held him at that level. He knows where the biscuits are and will stand and moan at that point when he wants one! Oh, and don't get me started on beastfeeding. He literally is able to remove my boob from my clothes if he wants. This is why I have to dress conservatively in public without "easy access".
3) Nappy change: I was bowled over the other day when Nicky brought a nappy to tell me he needed a change. Not his normal one (he can't reach those) but one of his "little swimmers" that were on a lower shelf. He has done it once again since then. I was very impressed!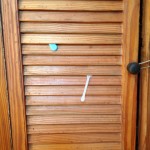 4) Fun: I don't think there is any deeper meaning to him placing his favourite fork and spoon in the slats in the cupboard door. It just shows he is having fun poking objects through holes, much like he does with pegs and the hole in the shed.
So much is going on with this kid as he explores his way through the world. I am sure I am missing a lot but what I do notice is the unfolding of the miraculous and I am privileged to be here to see it.
Related Posts via Categories
Comments
comments