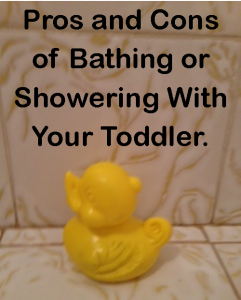 Parenting seems to be an exercise of trying different things to see what works and what fails. I have been experimenting with bathing and showering with and without Nicky and have come to a couple of conclusions along the way.
When Nicky was a little baby it was obviously much easier to bath him separately. A little helpless infant needs a lot of attention and help without me focusing on myself too much.
Now that he has reached the toddler phase, he is very curious about everything and wants to explore and interact with his world. This is great for his development, but proves challenging for me.
PROS of bathing or showering WITH toddler:
1) If you try and bath or shower by yourself, the following will happen:
Bathing: Things get thrown at you while you are trying to relax in the tub. Water gets scooped up and poured. Nicky gets all wet and we have to change him all over again.
Showering: He bashes on the shower curtain, sticks his hand under the water. Yes, you guessed it, we have to change him all over again.
If you can't beat him, join him, I say. Even if water and toys get splashed around, at least we are all wet in the bath anyway.
2) Bonding time. He likes to pour water on me. He climbs on me.
3) I have now even started using his special baby liquid soap on myself when I bath with him. I soap myself, I soap him, and we are all done in one go.
4) No need to get up early while he is asleep to bath or shower.
5) You can turn the shower into a bath at the end by putting in the plug from the start.
CONS:
1) Sometimes it really is nice to have time to yourself in the shower and bath. This is where you have to get creative. If he is distracted with a toy you can quickly make a get away. You can get up early. The other day i actually asked him to go and play with his truck while I showered and it actually worked. I couldn't believe it.
2) Space wise it is a bit crowded in the bath.
In conclusion, I have decided that during the week I will bath or shower with Nicky and over weekends, when we can let him sleep in,  or DH is around to distract him, I can have the joy of cleaning myself, by myself!
I'd love to know how other moms deal with this challenge!
Related Posts via Categories
Comments
comments