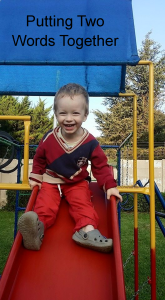 Every week there is more development in Nicky's speech and it is amazing to watch.  He can name a lot of animals. He can say if he is "wet" or "hot". He can demand "duice!" or "wator" or "eat!". He can name all the members of his family "Mama, Dada, Co Co and Ilo" (the last two are the dogs Coffee and Milo – we also call Coffee Coff Coff so I guess this is close enough for him). Nicky is a late talker but lately there have been a lot of single words coming. So it has been interesting to see this week  how he has actually been linking two words together more often.
Of course Nicky has done this before, if you remember "Out, Dad!" but this week was the first time he has said it referring to me.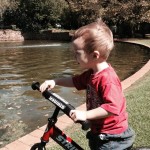 The other day I was busy in the kitchen he got on his scooter outside the door and very insistently said "Mama, out!" He wants me to come with him to play outside. He continued like this until I had to explain to him that I needed to cook but he could come and help me. A bit of tears but I got him to "help" and he had fun throwing beans in the pot.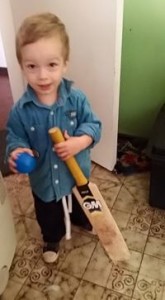 We did get to play outside. Nicky loves playing cricket. I am so enjoying playing cricket with him. I think it is therapeutic after being useless at sport and having horrible PT teachers to have this bundle of joy enjoying throwing balls at me and the bat. He even picks them up if they are not on his side. Bonus.
Nicky gets a real thrill out of saying "Mama!" and me answering "Yes?" He thinks this is hilarious and will do it again and again.
Another word he has learned early on is "biccy". Oh my word. If Nicky could live on biscuits he would happily do so. It  is "biccy" when he wakes up, "biccy" at odd times during the day, and "biccy" last thing at night. He will even take "biccy" to the bathroom to sit on the potty and munch at the same time. (Oh by the way we are still continuing with the potty training, with prompting he is doing well, but still pooping in his pants. Sigh.)
In any case, this evening it is bath time, and to soften the blow of the "trauma" of bath time a comfort item has to come too. Often it is a car, but tonight he wants a "biccy". I explain to him that it will probably get wet, but anyway.
Off we go, he does his pee in the potty (yay!) and then it is bath time. The biscuit is placed on the edge of the bath. We have a great splashing time in the bath. At one point he is out sitting on the side of the bath with all the toys and he notices, to much dismay, that the biscuit is wet.
"Biccy!" Nicky says in tears.
I explain to him that if you bring a biscuit into the bath, of course it is going to get wet. I start laughing and fortunately he sees the funny side too and soon we are playing a game where he is throwing the biscuit (No! I don't want your soggy biscuit!).
At another point we have switched sides and he considers the biscuit.
"Wet," he says, in deep thought.
"Biccy. Wet." He laughs and laughs and repeats this over and over again.
Well there you have it, folks. The development of language contained in a wet biscuit.
***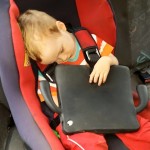 Enough about spoken language. I also need to mention that during our long car trips when we are stuck in traffic, Nicky is gaining an education on the IPad. He traces letters, numbers and shapes. He forms animals with shapes. He matches letters. He even selects words. I am so proud of my little man who is learning independently in this way. He is paving the way for reading and writing.
And sometimes, when he hasn't had his afternoon nap, car trips are a great place to fall asleep…
Related Posts via Categories
Comments
comments