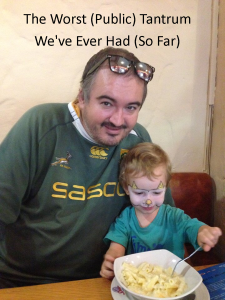 Tantrums are just plain awful. As a mom, at home, you understand what's going on and you can deal with it. Put the situation in the public arena… well it just got a whole lot worse.
On Saturday I was recovering from a bad night (I didn't sleep well, but Nicky did). The next morning DH watched him while I slept in. We only left the house at about ten. I needed to go looking for the pomegranate juice and raspberry tea mentioned in the previous post. The guy at the health shop did not have it and recommended Dischem.
We first went to a discount bookshop at Brightwater Commons. This place sells cheap books. They have a R5 box and we got some nice ones. We watched some bikers and skateboarders on the ramps there. Then we went to Cresta.
The problem with getting to Dischem at Cresta (if you want the free parking) is that you have to land up parking a long way away from it. It is in the middle new underground section. So we grab a trolley to put Nicky in and off we trundle.
When we get there I am dismayed to find they don't have plain pomegranate juice and there is no raspberry tea in sight. All I can get is combinations pomegranate/green tea, pomegranate/aloe and pomegranate/blueberry.  Oh well, that will have to do. I am thinking of making it myself (has anyone ever made pomegranate juice? Those fruits look a bit intimidating).
In any case DH was asking about lunch. He wanted to go to the Spur. I knew it was getting late and Nicky needed his nap. But there have been times I have managed to push him an extra hour and I was hopeful he would make it. Big mistake.
However, off we went and had lunch. Nicky was so excited to climb up the play canyon and I went with him. This time he didn't spend much time at the top and just wanted to climb down again. He had his face painted again. I think it reminds me of a hyena because she made his ears yellow. He also enjoyed some macaroni. Nicky loves his noodles.
The problems started with a balloon. Nicky loves balloons. Nicky loves balls and balloons are great because they are light to kick for little boys. So he got the balloon, whined until it was detached from that plastic stalk, and then started kicking it around. I worked very hard to make sure he didn't go out of our corner and kept the bouncing balloon as contained as I could.
The difficulty was that there was a long stretch between the car and the Spur. Of course Nicky wanted to kick his balloon all the way through the mall, but we did not want that. All we could do was put the balloon in the trolley. Nicky flatly refused to sit in the trolley. We had to carry him, kicking and screaming for his balloon.
Dear blog readers. I did not handle it. I was a crying mess myself and Nicky was forcing himself out of my arms. I actually said "I am not handling this."
Fortunately I have a great husband. He scooped Nicky up and carried him the rest of the way. Crying all the way. At least he is stronger than me.
Nicky was kicking and screaming for about 15 mins in the mall and people made the odd comment when we walked past them."Quite a performance," was one of them.
Finally we got to the car, put Nicky in the carseat with his balloon. He instantly calmed down and fell asleep on the way home.
Poor little dude was just tired.
Today he did not nap at all (although we did have a good night before) and had an early night tonight.
It's all about the sleep people… sigh….
Related Posts via Categories
Comments
comments