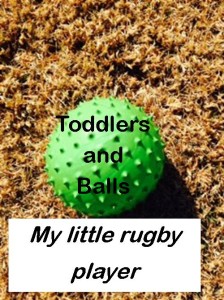 There is something that Nicky loves almost as much as he loves wheels and that is – BALLS!
He loves to kick, throw and enjoy playing with balls.
He will often come to me with his ball, wanting me to kick with him.
Recently I have noticed there is a lot of seriousness going on when he kicks the ball. He has been watching the sport on TV that we have on during the weekend. We often have rugby and cricket on.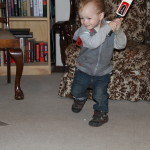 He finds the cricket bowling quite enthralling and for a while did a little hand movement before he kicked the ball.
This past week I think he studied the rugby kick. This is because he places the ball in a certain spot. Then he moves to a particular place behind it. Then he lifts his head, focusing on a distant spot (copying the rugby players who look at the goal posts) and then, with very serious sighs, gives the ball a kick.

He can also drop the ball and kick, as this video shows:

He likes the lightweight ball as it is easy to kick.
He also likes the little rubber balls. Those are lots of fun because they bounce a lot.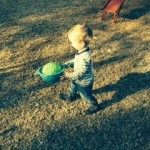 I used to do this ball skill exercise with a colander and a ball where you throw the ball into the colander. However Nicky preferred to use it as a bat or place to throw the ball from.
I think balls are a lot of fun for toddlers because they encourage movement, and that, of course, is something they love.
Related Posts via Categories
Comments
comments