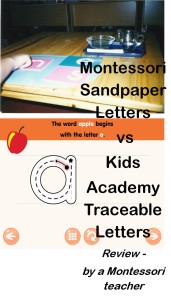 Can concrete materials ever be replaced by screen applications? The short answer is no, but they sure are a great compliment to the learning process.
I was asked by Sverve to do a review of Kids Academy Company application.
I had actually already downloaded their Traceable Letters app. I often read about various apps in magazines or online and if they seem interesting I will go for them. Nicky likes the Petting Zoo app (where you can manipulate animals) and we've recently also been enjoying Piano Ball.
For me, at 2, he is still too young to be tracing letters, but I was very interested in this app.
I am a qualified Montessori Directress with eight years of teaching experience. For four of those years I worked with the 4-6 year olds teaching them to learn their letters. As long as I had my sandpaper letters, my little plastic animals and my three period lesson, I was good to go. I consider myself a professional at being able to teach a child to read and write.
However, there is a problem, when for some or other reason, the child's writing is off. As a teacher, you teach them over and over not to form their letter in that way. But I have to tell you, just before I left teaching I was working with Grade Twos.
There is nothing worse to me than getting that sinking feeling in the pit of your stomach looking at a child's writing and thinking: He is now in Grade Two and he STILL isn't forming his letters correctly! And I seriously don't have time now to teach him.
Parents should be involved more, but many working moms just don't have the time.
This is where an app like Traceable Letters by Kids Academy can help. It offers encouraging and interactive teaching of how to draw your letter. And it does upper and lower case.
In any case, I thought I would walk through both methods so that you can see how they could compliment each other.
MONTESSORI SANDPAPER LETTERS:
Firstly, we need to look at the child's sensitive period for language.
0-2.5 years: sensitivity to heard language.
2.5 – 3.5 years: sensitivity to tactile impressions of words
3.5 – 4.5 years: sensitivity to mechanism of writing, shapes of letters and the patterns that words make
4.5 – 5.5 years: sensitivity to function of words
5.5 – 7 years: sensitivity to construction of words
The Montessori language material is generally used for children older than three. You start with playing "I-Spy" with them. You also use metal insets to help them gain control of muscles for  holding a pencil. The metal insets are used for tracing and you also get them to draw lines across them so that you can reinforce working from left to right.
I think the way that Sandpaper Letter are far superior to applications is that they utilise the child's tactile sensitivity. Did you know that there is even a Montessori exercise for sensitising the fingers where you wash them and rub your fingertips vigorously? This makes the whole process even more heightened.
So would a three period lesson work?
1) Getting them to support the letter with the left hand, trace it with your right hand with your middle and index finger and then say the sound. Get them to trace it and say the sound. Repeat with two other dissimilar letters.
2) Place all three letters on the mat and ask "Show me A", and get them to trace it again. This is really a fun section. You can really enjoy getting them to put "H" on their head or "F" on the floor etc. I used to have 4 boxes of plastic animals for them to match letters to. The letters were divided up into similar writing groups (e.g. a, o, d, g, qu go together as they all start the same way). You can get them to jump on the letter and lay it on the floor. The possibilities are endless.
3) Now, you take your three letters one by one and ask "What is this?" Obviously this is the hardest part and for some kids you may not, for a while, venture beyond stage 2. But eventually you will get there.
I had a manual record keeping system where I would make notes of how the kids did with the letters.
I must say I am looking forward, perhaps next year, when Nicky is three, to cut out some sandpaper or felt letters and get going on these types of exercises with him. I know we will have lots of fun with this and he will feel the texture in his fingers and it will reinforce the pattern of writing.
KIDS ACADEMY TRACEABLE LETTERS
I think what I like most about this app, is there is encouraging feedback to writing. In some of the apps you write, you collect fireflies in a jar if you get it right. There is a voice that tells you to do it over if you get it wrong. You can do the letters alphabetically or you can choose which ones you want to practice. You can choose upper case or lower case. There is a record keeping system – progress chart. There is fun music. You can set profiles so that more than one person can use the app. There is also a parent mode where you can adjust setting such as sounds, music and if you want a male or female voice.
How the app works: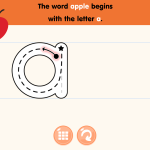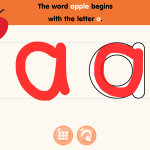 1) Trace
2) Write it independently
Each letter is presented with a picture or a word that begins with that letter so that they are introduced to the sound of the letter.
***
Also worth mentioning are the other apps included with Kids Academy.
There are also shapes, numbers and stories. Remember that R500 ITunes voucher I won in the #JoziMeetUp? Well I spend some of it on more worksheets (R119.99) and two stories.
I think  tracing shapes is a great way to start when learning to write (I remember doing patterns in my pattern book when I was in Grade One) but I also think they could expand into more shapes, e.g. trapezium, oval, ellipsoid. Catching the fire flies is a novel way to go, however. They also have a fun tracing one where you draw faces out of shapes which would be a step up in difficulty from the simple shapes.
They also have a section for teens and tens. Montessori also has a fab way of teaching this with the Seguin boards and beads. I think both methods would compliment each other. (Here's a link from a Montessori blog I follow on how to make the teen and ten boards yourself.)
I downloaded the "5 Little Monkeys" (R36.99) and Nicky really enjoyed listening to the song. Actually I have pretty much been singing it to him since he was a baby because it is a great way to teach numbers plus I love the dramatic effect of getting the doctor more and more angry each time mom phones about those naughty monkeys! We also had fun with the jumping. Of course it is a lot of fun when I do it with him but now it is reinforced with pictures e.g. picture of a monkey and a doctor.
I also got "Three Little Pigs" (R24.99) which is a story. As the story is read the words are highlighted. You can also touch the pictures and they interact with you. Nicky loved the pig that kicked a ball when he touched it. The houses are built as you touch them. There are different options you can choose, like just being read to, the story and interaction and reading yourself.
So what's my verdict?
I loved the stories and I think the traceable letters are a great compliment.
Nothing replaces real life teaching and reading, but for sure I think this would have been a great help to a busy mom to get her kid to write his letters accurately. It might just have helped an over extended teacher sitting with a kid that still can't write correctly.
Related Posts via Categories
Comments
comments