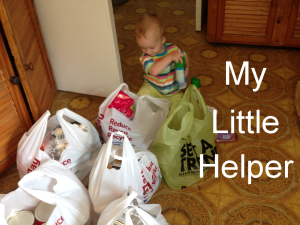 Even though Nicky is so little, he has been showing me lately how involved he wants to be in my tasks. Indeed, he likes to "help" me in his own little way. I love it. I am going to be so thrilled if he continues in this way.
1) Putting things back: Yesterday, as I was getting breakfast organised, he unpacked his whole cupboard. I wasn't going to deal with it right then as I was busy. To my surprise he put every single item back in the cupboard, without being asked! I was so touched.
When I put his balls back in his ball container he often helps me too.
I even caught him putting individual dog blocks back in Milo's dog bowl. This, after I suggested he sweep them out with his broom. I guess he decided he was going to do it properly!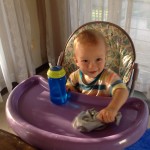 2) Wiping his high chair table: I think he just loves to play with the cloth. Sometimes he insists I put him back in the chair because he hasn't finished cleaning yet!
He also loves to sweep with his broom.
3) Unpacking groceries: This is so cute. On Fridays I do the grocery shop with him sitting in the trolley, eating his banana.
When we get back I take everything in. Then the fun starts. Nicky wants to help too. He takes things out for me. I say "Thank you, Nicky!" when he gives me something. Last week he lined everything up next to the fridge for me. This time he piled them on one side. It is just so cool to watch him.
4) Closing the gate: Nicky just loves closing doors. When we come home we have to close the middle gate that keeps the dogs in. Nicky has noticed the routine and now comes to "help" me.
I think I will keep encouraging these efforts. They are so precious.
Related Posts via Categories
Comments
comments