This month has Pregnancy Awareness Week (10-16 February) and I thought I'd write about one aspect of pregnancy that every woman must face: the changing condition of your skin. Whether the changes are linked to hormones, the pregnancy itself or existing conditions which become worse during this time, it is good to be informed and prepared for what lies ahead.
The skin problems are:
1) Stretch Marks:
"Contrary to what you may expect, stretch marks don't only occur in the later stage of pregnancy," says gynaecologist Dr Jana Roussouw. "They can start developing as early as the first trimester due to high hormone levels. However they most commonly appear in the second and third trimesters of pregnancy."
Stretch marks initially appear pinkish purple, along the skin that is expanding. They do eventually fade to a silverish white. They are more common if you are younger, have a larger baby or a larger body mass index.
So what can you do?
1. Massage with cream: I started using Bio Oil, twice a day, right from the beginning of my pregnancy and I was lucky to escape stretch marks. However, there are no guarantees for everyone. There are some limited studies that do show they help (Young and Jewell, quoted in American Family Physician). If nothing else it will help ease the itchiness and massage is always good.
2. Try not to gain too much weight. Dr Roussouw says ideally you should only gain 12kg and after 36 weeks put on 1kg per week.
3. Drink lots of water.
4. Promote elasticity in your skin with Vitamins C and E.
5. If they are really bad, What to Expect suggests that afterwards you can laser them off or use the topical tretinoin (Retin-A).
2) Itchy Dry Skin
Hormonal changes rob your skin of oil and elasticity, leaving it dry and itchy.
So what can you do?
1. Cut down on the cleaning! This might not make sense, but if you keep you showers short and avoid soap you will irritate your skin less. You know why we slather our babies in moisturiser after bath time? It is because their skin is so sensitive, and yours is too during pregnancy.
2. I love my bath as a place to relax and you can help your skin by adding unscented oils and Bio Oil too. Make use of cooler/ lukewarm water.
3. Slather on the Bio Oil afterwards and as often as you can. It's  a nice way to bond with your unborn baby too.
4. Wear cool, loose clothing and sunscreen.
3) Hyper Pigmentation
Pregnancy causes excess melanin production, a the tanning hormone that darkens your skin. The results are
– Chloasma – "the mask of pregnany" – a mask like configuration or confetti like appearance on your face.
– Freckles and moles may become darker.
– Linea nigra: a line down your belly.
So what can you do?
Many of these conditions will fade after you've had your baby, if not a dermatologist can bleach or laser it.
1. While you are pregnant, you can use make up to conceal these problems.
2. Stay out of the sun and wear sunscreen.
3. Bio-Oil has been shown to be effective in helping improve uneven skin tone. During a clinical trial at Medunsa in 2005, 93% of the subjects recorded an improvement in appearance at six weeks and in those with darker skin tones, the improvement continued significantly from week 8 to week 12.
4) Pruritic urticarial papules and plaques of pregnancy (PUPPP). These are pale red bumps which can be tiny like a button or huge like a plate. When they occur together they are called "plaques".
This rash normally also goes away after pregnancy, and can be resolved with antihistamines and topical steroids.
5) Red palms and soles. Hormones and increased blood flow cause red and itchy hands and feet. It's like you've been washing too many dishes.
Relief can be found in cold water or an ice pack. Avoid heat or harsh soaps.
6) Bluish, blotchy legs. An increase in oestrogen causes this discolouration when cold. It will fade when your baby comes.
7) Skin tags. A small flap of tissue hanging off the skin: not an issue unless you rub up against it. They should regress after delivery, if not, your doctor can remove them.
8) Heat rashes. These may occur when hot and damp as the friction between clothes or skin reaches an uncomfortable dimension.
Use something cold or powder after your shower and try and keep cool.
9) Veins.
-More visible: they are a sign your body is working as it should. Your baby needs the increased blood supply.
-Spider veins: Purplish red lines.
To prevent them: exercise, take Vitamin C and don't cross your legs.
These burst vessels can be covered with make up or if they don't disappear you can get them injected or lasered (after the birth).
-Varicose Veins: With all the extra blood pumping around, the extra pressure your legs have to support your bump plus the hormones that relax the vessels, it won't be much of a surprise if this occurs, especially if it runs in your family.
What you can do is elevate your legs and keep the blood flowing. Watch your weight and heavy lifting.  Support panty hose may help support your straining veins.
10) The normal skin conditions that worsen with pregnancy e.g. acne.
Wow. All those skin conditions are rather depressing, aren't they? But it seems there is a common theme running throughout: keep yourself on the move, wear sunscreen, eat well/ watch your weight, take your vitamins and slather on that Bio Oil.
(And don't forget to carry on using Bio Oil for your C-section scar, if you wind up going that route. I used it for my laparoscopy scars, three months later started using it for pregnancy and then afterwards used it on the C-section scar. Today it is so faint you can hardly see it.)
I do have to tell you one good skin condition after all those bad ones: it's called the "Pregnancy Glow".  Your skin is moist and plumped up. Increased progestrone makes you look a bit pink and flushed.
But, hey.. you're glowing.
And that baby is going to be totally worth it.
***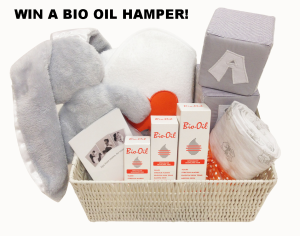 WIN! Bio–Oil is the number one selling scar and stretch mark product in 18 countries and the one most recommended by doctors, midwives and pharmacists for pregnancy stretch marks. We have a gorgeous Bio–Oil baby hamper worth R1,000 to giveaway. The handy basket contains a hooded towel, a soft muslin blanket, a cute bunny and fabric building blocks as well as Bio–Oil's 'Tips from Moms for Moms' and 'Guide to Pregnancy Stretch Marks' and three bottles of Bio–Oil (60ml, 125ml, 200ml).
You must be a resident of South Africa to enter.
(This competition is now closed)
Related Posts via Categories
Comments
comments